How Much Do Nonprofit Consultants Charge? [Chart]
When you are first starting out in the nonprofit world, it can be hard to know how much a good nonprofit consultant will charge and what a project will cost.
There are many different types of consultants, and their rates vary based on three factors; experience, type of consulting, type of engagement. The average nonprofit consultant fees range from $85-$152 per hour. Highly sought consultants can charge upwards of $300/hour, while less experienced consultants may charge as little as $50/hour. Nonprofits should expect to pay between 10% and 20% more if there is no established relationship with the consultant. Different types of nonprofit consultants have varying average rates, as discussed below.
In this article, we'll discuss the different types of consultants, what they do, how much they charge, and where to find them! Don't miss the average hours by project type information at the end.
Disclaimer: This post may contain affiliate links. These links, if used and purchases made, we may earn a small commission. We use these funds to help support NPCrowd.
Average Nonprofit Consultant Fees/Rates [Table]
Nonprofit consultant rates vary depending on experience, type of consulting, and the type of engagement. Expect to pay more for small projects without a pre-existing relationship with the consultant.
Below is a table with average nonprofit consultant fee rates for someone who charges by an hourly rate:
| Consultant Type | Avg. Min. Rate/Hour | Avg. Max. Rate/Hour |
| --- | --- | --- |
| Professional Fundraiser | $50 | $125 |
| Management Consultant | $75 | $225 |
| Fundraising Consultant | $50 | $75 |
| Foundation & Grant Writing | $150 | $225 |
| Special Events Consultant | $100 | $150 |
| Marketing/Digital Marketing | $100 | $150 |
| Technology Consultant | $70 | $115 |
Average Nonprofit Consultant Rates by Consultant Type
What is a nonprofit consultant?
Nonprofits may have specific needs that need to be met for the organization to grow and meet its goals. A nonprofit consultant has a specialized skill set and is knowledgeable of how nonprofits work on all levels.
Hiring a nonprofit consultant is more than just an organization paying someone for advice and recommendations, but also someone to do, implement or deliver part of the actual work.
Types Of Nonprofit Consultants And What Do They Charge?
There are seven different types of nonprofit consultants: professional nonprofit fundraisers, management consultants, fundraising consultants, foundation and grant writing consultants, special event consultants, marketing and digital marketing consultants, and technology consultants.
Professional Nonprofit Fundraiser – Freelance fundraisers are often hired to help nonprofits with specific needs to increase fundraising. Professional fundraisers can be indispensable for projects like a capital campaign. Think of these professionals as hired development representatives. Professional nonprofit fundraisers average $50 an hour when they charge by the hour with highly capable, experienced fundraisers working for up to $150 per hour.
Note: Do not hire a professional fundraiser on a percentage-raised basis. The AFP code of ethical standards & guidelines warns against it. Instead, stick to a flat fee, hourly rate, or retainer fee structures.
Management Consulting Services – These consultants provide expert advice in areas such as management, marketing, human resources, finance/accounting, budgeting, etc., but don't offer hands-on services like the design or development of materials for a campaign. According to NonProfitSource's pricing survey from 2017, management consulting service consultants charge fees according to their experience level, with hourly rates ranging anywhere from $75-$225.
Technology Consulting – These consultants provide services ranging from network and telecommunications design, troubleshooting, and implementations to database management, analysis, and programming. Nonprofit technology consultants are not computer support technicians but are instead highly skilled at using technology to improve how a nonprofit operates, makes decisions, and tracks progress. They have a higher hourly rate because of the complexity and depth of their expertise. These experts charge about $70-$115 per hour.
Fundraising Consultants – These professionals offer fundraising consulting services such as strategic planning, public relations, donor and prospect research, grant writing assistance, feasibility studies, case creation, etc. Still, they don't often provide hands-on volunteer management or event coordination efforts. They charge $50-$75 per hour with an additional fee of 15%-20% for landing large projects like capital campaigns (which can take up to 18 months).
There are some specialties within this field including, but not limited to:
Grant Writing and Proposal Management fees are typically charged by the hour at a rate of $150-$400 per hour, with an additional fee for each draft as well.
Donor Research and Prospecting fees (fees for finding new prospects) range from $200-$400 per hour with an additional fee of 15%-20% on large projects like capital campaigns which can take up to 18 months.
Event Management Consulting fees generally charge about $100-$150 per hour or more depending on how extensive their services will be as well as market conditions at the time of the request.
Cause Marketing and Social Media Consulting fees generally charge about $100-$150 per hour or more depending on how extensive their services will be as well as market conditions at the time of the request.
Experience level dictates how much a nonprofit consultant charges, so all estimates are across broad ranges dependent upon level.
Nonprofit Consultant's Responsibilities 
Consultants have a number of responsibilities to their nonprofit clients. These responsibilities include:
Nonprofit consultants are paid to use their experience, knowledge, and skillset to advise nonprofits on how best to reach the desired goals.
These professionals have a duty of confidentiality for all matters they come into contact with during their work. They also should be available for consultation outside of normal working hours if needed.
Nonprofit consultants are expected to bring new ideas and fresh perspectives to the table to help their client organization grow.
Nonprofit consultants are highly skilled professionals with years of experience in their field who have developed a wide range of skills, from data gathering and analysis to organizational management, planning, strategy design, and marketing.
Hiring Organization's Responsibilities
When working with a nonprofit consultant, there are responsibilities that the nonprofit organization is accountable for. 5 key responsibilities of the nonprofit are:
Nonprofit organizations should be willing and able to share financial information with consultants.
They must also provide the consultant with a clear picture of what is expected from them during their time to ensure that goals for growth are met.
Nonprofits need to make sure they're always up on current trends and relevant technologies, so these professionals can help advise changes necessary for improvement.
The responsibility falls to the nonprofit to interview consultants and select a qualified consultant with the experience and expertise needed to accomplish the goals.
Nonprofits need to be honest about their organization's needs and take the time necessary for meetings to get the right consultant.
That said, nonprofit consultants may not have all of this knowledge themselves. Rather it will come through collaboration with other team members like fundraising specialists or marketing experts who know how best to go about certain tasks by using new methods or techniques. Therefore, nonprofits may need multiple consultants for different aspects of the work to be done. So, be sure to hire the expertise you need.
Why nonprofits need consultants in the first place
The nonprofit sector is dynamic and changing, making it difficult for a single person to stay on top of all the best practices.
Consultants can be invaluable in cutting through the clutter and bringing organizations up to speed with their peers and beyond. Nonprofit consultants also help strengthen management skills by providing training opportunities for staff members who are new managers or those looking to move into managerial roles.
How do I find a nonprofit consultant?
Nonprofit consultants are just like other professionals. They have a set of skills and can be matched to organizations based on needs, interests, and personal strengths.
Finding the best nonprofit consultants, you have three options, ask colleagues and your personal network, research in forums and Facebook groups, or check out available consultants in the NPCrowd nonprofit consultant directory.
When talking to a nonprofit consultant about their rates and fees, be sure you know the 6 common consulting fee structures in order to create a fee schedule that works best for your project, financial situation, and the consultant's preferences.
When talking to a nonprofit consultant about their rates and fees, be sure you know how much they charge for different types of work because it will help create an appropriate fee schedule that fits both your project's financial situation and also what the individual prefers (i.e., fixed-time versus hourly). For example: if someone wants more certainty with how much their projects will cost, they may want to charge a fixed fee.
Can I only hire a nonprofit consultant by the hour?
No, nonprofit consultants work with a number of different fee structures beyond a straight hourly rate. There are 6 primary fee structures that consultants typically work within. Try a hybrid approach to balance risk and reward.
According to Market Circle, typical consulting fee structures are broken down as follows: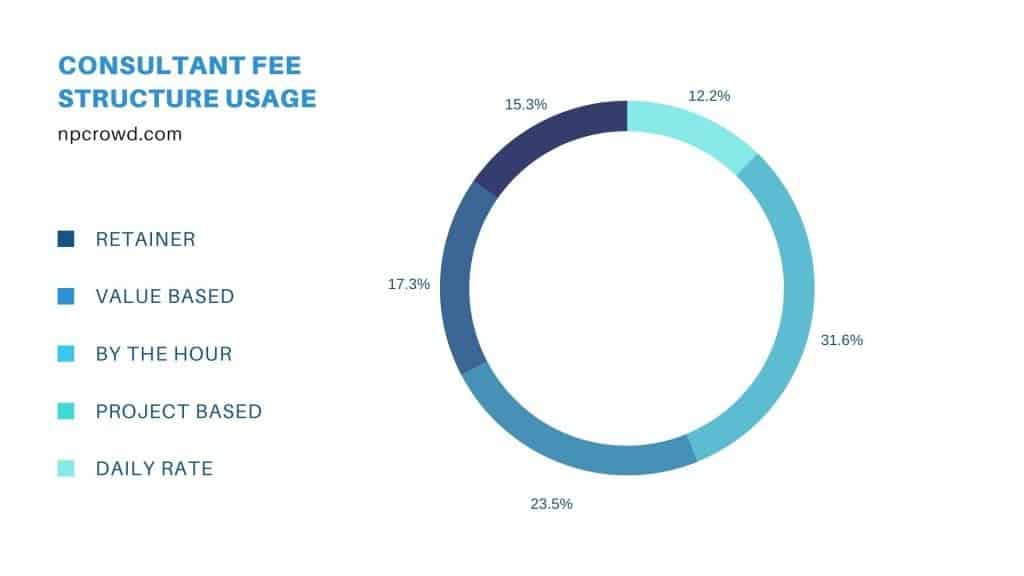 How many hours to budget for a nonprofit consultant?
The most common question for nonprofits when they consider hiring a nonprofit consultant is how much will it cost. The nonprofit consultant rates/fees above give you general averages based on the type of consultant needed.
Now, the next step is to determine how many hours to budget for. When budgeting for the consultant project, always ask the consultant for an estimate of hours to accomplish your goals. They will provide this estimate broken down by type of work or by project milestones. This is the best way to get accurate with your estimates.
However, many nonprofit staff want to know if they should even begin to look for a consultant. Here are some estimated hours for different project types to get you into a ballpark budgetary range before proceeding further.
| Type Of Work | Estimated Hours |
| --- | --- |
| Evaluations | 12-30 hours |
| Information Gathering | 30-60 hours |
| Training | 10-25 hours |
| Marketing Strategy | 15-30 hours |
| Marketing Plan | 20-40 hours |
| Fundraising | Varies 40+ |
| Grant Proposal (Small Foundation) | 8-12 hours |
| Grant Proposal (Large Foundation) | 30-50 hours |
| Foundation Letter Of Inquiry | 6-8 hours |
Estimated consultant hours for nonprofits with 50 or fewer staff