How Much Do Nonprofit Consultants Charge : Tables And Data
Disclaimer: This post may contain affiliate links. These links, if used and purchases made, we may earn a small commission. These affiliate programs do not impact the recommendations we make or the resources we refer you to. Our focus is on providing you the best resources for your nonprofit journey.
When you are first starting out in the nonprofit world, it can be hard to know how much a good nonprofit consultant will charge and what a project will cost.
There are many different types of consultants, and their rates vary based on three factors; experience, type of consulting, and type of engagement. The average nonprofit consultant fee ranges from $85-$152 per hour. Highly sought consultants can charge upwards of $300/hour, while less experienced consultants may charge as little as $50/hour. Nonprofits should expect to pay between 10% and 20% more if there is no established relationship with the consultant. Different types of nonprofit consultants have varying average rates, as discussed below.
In this article, we'll discuss the different types of consultants, what they do, how much they charge, and where to find them! Don't miss the average hours by project type information at the end.
Average Nonprofit Consulting Fees/Rates [Table]
Nonprofit consultant rates vary depending on experience, type of consulting, and the type of engagement.
Average hourly rate: $85-$200
Average project-based rate: $1,500-$5,000
Average retainer rate: $2,500-$5,000 per month
What you pay also depends on factors about the project and the nonprofit organization itself.
The size of the project: Larger projects will generally require more time and therefore cost more.
The complexity of the project: More complex projects will also generally require more time and therefore cost more.
The location of the project: Projects located in larger cities will generally cost more due to the higher cost of living.
The nonprofit's budget: Nonprofits with larger budgets will generally be able to pay more for consulting services.
The nonprofit's ability to pay: Nonprofits with more limited resources may be able to negotiate lower rates.
Below is a table with average nonprofit consultant fee rates for someone who charges by an hourly rate:
Nonprofit Consultant Type
Nonprofit Consultant
Avg. Min. Rate/Hour
Nonprofit Consultant
Avg. Max. Rate/Hour
Professional Fundraiser
$50
$125
Management Consultant
$75
$225
Fundraising Consultant
$50
$75
Foundation & Grant Writing
$150
$225
Special Events Consultant
$100
$150
Marketing/Digital Marketing
$100
$150
Technology Consultant
$70
$115
Average Nonprofit Consultant Rates by Consultant Type
When talking to a nonprofit consultant about their rates and fees, be sure you know the 6 common consulting fee structures in order to create a fee schedule that works best for your project, financial situation, and the consultant's preferences.
For example: if someone wants more certainty about how much their projects will cost, they may want to charge a fixed fee.
What is a nonprofit consultant?
Nonprofits may have specific needs that need to be met for the organization to grow and meet its goals. A nonprofit consultant has a specialized skill set and is knowledgeable of how nonprofits work on all levels.
Hiring a nonprofit consultant is more than just an organization paying someone for advice and recommendations, but also someone to do, implement or deliver part of the actual work.
Types Of Nonprofit Consultants And What Do They Charge?
There are seven different types of nonprofit consultants: professional nonprofit fundraisers, management consultants, fundraising consultants, foundation and grant writing consultants, special event consultants, marketing and digital marketing consultants, and technology consultants.
Professional Nonprofit Fundraiser – Freelance fundraisers are often hired to help nonprofits with specific needs to increase fundraising. Professional fundraisers can be indispensable for projects like a capital campaign. Think of these professionals as hired development representatives. Professional fundraisers charge an average of $50 an hour when they charge by the hour with highly capable, experienced fundraisers working for up to $150 per hour.
Note: Do not hire a professional fundraiser on a percentage-raised basis. The AFP code of ethical standards & guidelines warns against it. Instead, stick to a flat fee, hourly rate, or retainer fee structures.
Interestingly, in a review of Form 990 filings in 2019 reviewing over 273,000 returns, we found that nonprofits reported spending only 0.04% of their total functional expenses on professional fundraising services.
Management Consulting Services – These consultants provide expert advice in areas such as management, marketing, human resources, finance/accounting, budgeting, etc., but don't offer hands-on services like the design or development of materials for a campaign. According to NonProfitSource's pricing survey from 2017, management consulting service consultants charge fees according to their experience level, with hourly rates ranging anywhere from $75-$225.
Technology Consulting – These consultants provide services ranging from network and telecommunications design, troubleshooting, and implementations to database management, analysis, and programming. Nonprofit technology consultants are not computer support technicians but are instead highly skilled at using technology to improve how a nonprofit operates, makes decisions, and tracks progress. They have a higher hourly rate because of the complexity and depth of their expertise. These experts charge about $70-$115 per hour.
Fundraising Consultants – These professionals offer fundraising consulting services such as strategic planning, public relations, donor and prospect research, grant writing assistance, feasibility studies, case creation, etc. Still, they don't often provide hands-on volunteer management or event coordination efforts. They charge $50-$75 per hour with an additional fee of 15%-20% for landing large projects like capital campaigns (which can take up to 18 months).
There are some specialties within this field including, but not limited to:
Grant Writing and Proposal Management fees are typically charged by the hour at a rate of $150-$400 per hour, with an additional fee for each draft as well.
Donor Research and Prospecting fees (fees for finding new prospects) range from $200-$400 per hour with an additional fee of 15%-20% on large projects like capital campaigns which can take up to 18 months.
Event Management Consulting fees generally charge about $100-$150 per hour or more depending on how extensive their services will be as well as market conditions at the time of the request.
Cause Marketing and Social Media Consulting fees generally charge about $100-$150 per hour or more depending on how extensive their services will be as well as market conditions at the time of the request.
Experience level dictates how much a nonprofit consultant charges, so all estimates are across broad ranges dependent upon level.
Nonprofit Consultant's Responsibilities 
Consultants have a number of responsibilities to their nonprofit clients. These responsibilities include:
Nonprofit consultants are paid to use their experience, knowledge, and skillset to advise nonprofits on how best to reach the desired goals.
These professionals have a duty of confidentiality for all matters they come into contact with during their work. They also should be available for consultation outside of normal working hours if needed.
Nonprofit consultants are expected to bring new ideas and fresh perspectives to the table to help their client organization grow.
Nonprofit consultants are highly skilled professionals with years of experience in their field who have developed a wide range of skills, from data gathering and analysis to organizational management, planning, strategy design, and marketing.
Hiring Organization's Responsibilities
When working with a nonprofit consultant, there are responsibilities that the nonprofit organization is accountable for. 5 key responsibilities of the nonprofit are:
Nonprofit organizations should be willing and able to share financial information with consultants.
They must also provide the consultant with a clear picture of what is expected from them during their time to ensure that goals for growth are met.
Nonprofits need to make sure they're always up on current trends and relevant technologies, so these professionals can help advise changes necessary for improvement.
The responsibility falls to the nonprofit to interview consultants and select a qualified consultant with the experience and expertise needed to accomplish the goals.
Nonprofits need to be honest about their organization's needs and take the time necessary for meetings to get the right consultant.
That said, nonprofit consultants may not have all of this knowledge themselves. Rather it will come through collaboration with other team members like fundraising specialists or marketing experts who know how best to go about certain tasks by using new methods or techniques. Therefore, nonprofits may need multiple consultants for different aspects of the work to be done. So, be sure to hire the expertise you need.
Why do nonprofits need consultants in the first place
The nonprofit sector is dynamic and changing, making it difficult for a single person to stay on top of all the best practices.
Consultants can be invaluable in cutting through the clutter and bringing organizations up to speed with their peers and beyond. Nonprofit consultants also help strengthen management skills by providing training opportunities for staff members who are new managers or those looking to move into managerial roles.
A very frequent use of consultants is the area of fundraising. Nonprofits often hire consultants to provide an outside perspective on their fundraising efforts, help them identify new opportunities, and train staff and volunteers on best practices.
These engagements may include working with the organization on a strategic fundraising plan, developing and implementing a capital campaign, or coaching staff on how to ask for donations.
Other popular areas for nonprofit consulting include program evaluation, board development, and marketing and communications.
Another common engagement is when a nonprofit organization is creating a strategic plan and thinking about long-term future growth opportunities. In these cases, a consultant can help to assess the feasibility of various growth scenarios and make recommendations accordingly.
Finally, nonprofits that are experiencing financial difficulties or are considering a merger or acquisition may seek out the services of a consultant to provide impartial analysis and advice.
What deliverables do consultants provide to nonprofits?
There is no one-size-fits-all answer to this question, as the type of project that a nonprofit organization uses a consultant for will depend on the specific needs and goals of the organization. However, some examples of common projects that nonprofit organizations use consultants for include strategic planning, fundraising, marketing, and communications, program evaluation, and capacity building.
In the case of strategic planning, a qualified consultant will be able to help a nonprofit organization develop and implement a comprehensive plan that will guide its future direction and growth. This may include developing long-term goals, identifying key strategies for achieving these goals, and creating action plans with timelines and specific roles and responsibilities for staff and volunteers.
There are a number of deliverables you might expect to receive such as a strategic plan document, an org chart, and/or a presentation.
If a nonprofit organization is looking to improve its fundraising efforts, it may seek out a consultant who specializes in this area. The consultant could provide guidance on how to develop and implement a successful fundraising strategy, including how to identify and cultivate potential donors, how to create compelling fundraising materials, and how to manage and track fundraising progress.
For marketing and communications projects, a consultant can assist with developing and executing a plan to raise awareness of the nonprofit organization and its mission. They may spend time creating and implementing marketing and communications campaigns, developing and managing social media accounts, writing and distributing press releases, and designing and producing marketing collateral.
When it comes to program evaluation, a consultant can help a nonprofit organization assess the effectiveness of its programs and services. This may entail conducting needs assessments, developing and administering surveys, conducting focus groups or interviews, and analyzing data to identify areas for improvement.
The consultant may also prepare written reports with recommendations for how the nonprofit organization can enhance its programs and services, reduce costs, or improve service quality.
Finally, capacity building is another common type of project that nonprofit organizations use consultants for. In this case, the consultant can provide assistance with organizational development, human resources, and financial management.
This may involve providing training and technical assistance on best practices in these areas, developing and implementing systems and processes, and conducting financial audits.
How do I find a nonprofit consulting Firm?
Finding the best nonprofit consultants requires a bit of research. Here are some tips:
Start with your network: Your colleagues, friends, and family can be a great resource for finding a nonprofit consultant. Ask around and see if anyone has worked with a consultant they would recommend.
Search online: There are a number of online directories that can help you find a nonprofit consultant. The National Council of Nonprofits' Consultant Connection is a good place to start.
Check out the competition: See if there are any consultants working with organizations similar to yours. These consultants may have valuable insights into your specific sector.
Attend conferences: Conferences are a great place to meet nonprofit consultants. Many consultants will have exhibit booths or be presenting at conferences. This is a great opportunity to learn more about their work and get to know them in person.
Nonprofit Consultant Directories: Check out available consultants in the NPCrowd nonprofit consultant directory.
How much do nonprofits spend on consultants?
In a review of 273,971 Form 990 Returns for 2019, we found that nonprofits across all sizes in the United States spend an average of 6.67% of their functional expenses on professional services including nonprofit consultants. This number excludes expenses for management, legal, accounting, lobbying, professional fundraising, and investment management fees.
Phew, yes, that's a lot of Form 990 returns, but the IRS does provide this dataset on an annual basis.
Here's a quick table demonstrating your functional expense size and the amount of consulting fees at the 6.67% rate. So, if you are a nonprofit with $500,000 in functional expenses, you would be in line with the U.S. average if you spent $33,350 on nonprofit consulting fees (professional services) in a given year.
Just keep in mind that this is apart from your other professional services as mentioned above. i.e. Don't include your accounting, legal, or professional fundraising fees in this.
| Nonprofit Total Functional Expenses | Nonprofit Consultant Expenses @6.67% |
| --- | --- |
| $100,000 | $6,670 |
| $250,000 | $16,675 |
| $500,000 | $33,350 |
| $750,000 | $50,025 |
| $1,000,000 | $66,700 |
| $2,000,000 | $133,400 |
| $3,000,000 | $200,100 |
| $4,000,000 | $266,800 |
| $5,000,000 | $333,500 |
| $10,000,000 | $667,000 |
| $20,000,000 | 1,334,000 |
| $30,000,000 | $2,001,000 |
| $40,000,000 | $2,668,000 |
| $50,000,000 | $3,335,000 |
Nonprofit consulting expenses at various functional expense levels
Can I only hire a nonprofit consultant by the hour?
No, nonprofit consultants work with a number of different fee structures beyond a straight hourly rate. There are 6 primary fee structures that consultants typically work within. Try a hybrid approach to balance risk and reward.
Hourly rate: This is the most common fee structure for nonprofits hiring consultants. It's simple to understand and budget for, and it allows organizations to control their costs.
Fixed fee: With a fixed fee, the consultant and client agree on a set price for the entire project. This fee structure can work well when the scope of work is well defined and the project is relatively small.
Retainer: A retainer is a monthly fee that the client pays the consultant in exchange for a certain number of hours of work each month. This fee structure can be helpful in ensuring that the consultant is available when the client needs them.
Project-based: With a project-based fee, the consultant and client agree on a price for the entire project. This fee structure can work well when the scope of work is well defined and the project is relatively small.
Percentage of project: In this fee structure, the consultant charges a percentage of the project's total cost. This can be a good option when the project's scope is not well defined or when the project is large and complex.
Results-based: In a results-based fee structure, the consultant is paid based on the results of the project. This can be a good option when the project's outcome is important but difficult to predict.
According to Market Circle, typical consulting fee structures are broken down as follows: 12.2% – Daily Rate, 31.6% Project-Based, 23.5% Hourly Rate, 17.3% Value-Based, and 15.3% Retainer.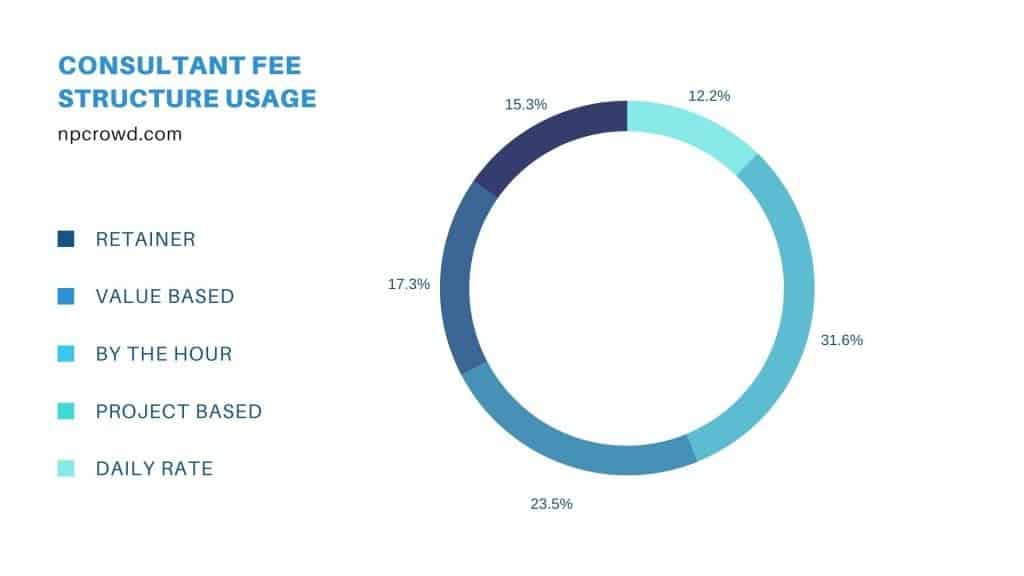 How many hours to budget for a nonprofit consultant?
The most common question for nonprofits when they consider hiring a nonprofit consultant is how much will it cost. The nonprofit consultant rates/fees above give you general averages based on the type of consultant needed.
Now, the next step is to determine how many hours to budget for. When budgeting for the consultant project, always ask the consultant for an estimate of hours to accomplish your goals. They will provide this estimate broken down by type of work or by project milestones. This is the best way to get accurate with your estimates.
However, many nonprofit staff want to know if they should even begin to look for a consultant. Here are some estimated hours for different project types to get you into a ballpark budgetary range before proceeding further.
| Type Of Nonprofit Work To Be Done | Estimated Billable Hours |
| --- | --- |
| Evaluations | 12-30 hours |
| Information Gathering | 30-60 hours |
| Training | 10-25 hours |
| Marketing Strategy | 15-30 hours |
| Marketing Plan | 20-40 hours |
| Fundraising | Varies 40+ |
| Grant Proposal (Small Foundation) | 8-12 hours |
| Grant Proposal (Large Foundation) | 30-50 hours |
| Foundation Letter Of Inquiry | 6-8 hours |
Estimated consultant hours for nonprofits with 50 or fewer staff
How to Negotiate Consulting Fees
Understand that just because a consulting firm has provided a price, that is not necessarily the final number.
Fees are always negotiable, and it is always worth trying to negotiate a lower rate, especially if you are a nonprofit with limited resources. Even if your nonprofit has plenty of funds, it is still worth trying to negotiate, as it could free up funds for other purposes.
It is also important to understand that the cheapest consultant may not be your best consultant. When evaluating proposals, be sure to consider the quality of the work in addition to the price.
Here are some tips for negotiating consulting fees:
Be clear about the scope of work: Before you start negotiating, be clear about the scope of work. What exactly do you need the consultant to do? The more specific you can be, the easier it will be to negotiate a fair fee.
Consider the value of the services: Think about the value of the services you're requesting. How will the consultant's work impact your organization? Will it save you time or money? A higher fee may be worth it if the consultant's work will have a significant impact on your organization.
Think about what you can afford: What is your organization's budget for this project? Be realistic about what you can afford to pay. It's important to remember that you don't want to low-ball the consultant and end up with subpar work.
Bundle services: If you are interested in multiple services from a consulting firm, ask if they are willing to provide a discount if you bundle the services together.
Get multiple bids: When you are considering multiple firms, be sure to let each firm know that you are considering multiple firms. This could encourage them to provide a more competitive bid.
Be prepared to compromise: Be prepared to compromise. If the consultant's fee is higher than you had hoped, consider ways to save money elsewhere in the project. For example, you might be able to reduce the scope of work or the length of the project.
Additional Resources