20 Meaningful Employee Appreciation Notes to Strengthen Workplace Relationships
Disclaimer: This post may contain affiliate links. These links, if used and purchases made, we may earn a small commission. These affiliate programs do not impact the recommendations we make or the resources we refer you to. Our focus is on providing you the best resources for your nonprofit journey.
A simple act of gratitude can have a profound impact on workplace culture and employee engagement. When employees feel appreciated, they are more likely to be motivated, productive, and loyal. One of the most meaningful ways to express gratitude is through heartfelt employee appreciation notes. In this article, we will explore the importance of employee appreciation, share tips for writing genuine, personalized notes, and provide 20 examples for various situations.
Tips for Writing Genuine, Personalized Employee Appreciation Notes
Be specific: Focus on the individual's unique contributions or accomplishments.
Use the employee's name: Personalize the note by addressing them directly.
Share a personal story or memory: Relate the appreciation to a specific moment or experience.
Be sincere: Use authentic language and avoid generic phrases or clichés.
Handwrite the note: A handwritten message shows extra thought and effort.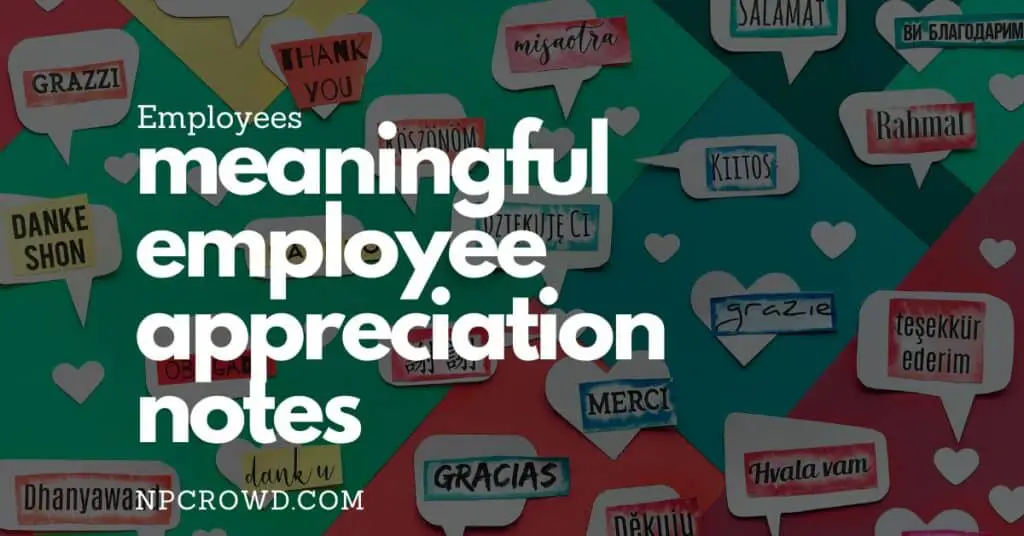 Examples of Appreciation Notes for Specific Situations
New Employees:
Dear [Employee's Name], welcome to the team! We're excited to have you on board and are looking forward to your fresh perspective and enthusiasm. We believe you'll make a valuable contribution to our organization.
[Employee's Name], congratulations on completing your first month with us! Your positive attitude and willingness to learn have not gone unnoticed. We're grateful to have you as part of our team.
Long-term Employees:
[Employee's Name], thank you for your dedication and commitment to our organization over the past [number of years]. Your hard work and loyalty have contributed significantly to our success, and we're honored to have you as part of our family.
Dear [Employee's Name], as you celebrate your work anniversary, we want to express our gratitude for the invaluable expertise and stability you bring to our team. Thank you for being such an integral part of our journey.
Employee to Supervisor:
[Supervisor's Name], I want to express my gratitude for your continuous support and guidance. Your leadership has been instrumental in my professional growth, and I feel fortunate to work under your supervision.
Dear [Supervisor's Name], thank you for always being approachable and open to feedback. Your ability to listen and adapt has made a positive impact on our team dynamics, and I'm grateful for your leadership.
Supervisor to Employee:
[Employee's Name], I am continually impressed by your innovative thinking and problem-solving skills. Your recent solution to [specific issue] not only saved time but also improved our processes. Keep up the excellent work!
Dear [Employee's Name], thank you for going above and beyond to ensure our clients are satisfied. Your exceptional customer service has garnered numerous positive reviews, and we're proud to have you representing our organization.
Coworker to Coworker:
[Coworker's Name], I'm grateful for your support and collaboration on [specific project]. Your expertise and positive attitude made a challenging task enjoyable, and I look forward to working with you again.
Dear [Coworker's Name], I appreciate your mentorship and guidance as I navigate my new role. Your patience and willingness to share your knowledge have been invaluable in my transition.
Employees Who Have Exhibited Exceptional Teamwork or Collaboration:
[Employee's Name], your ability to foster collaboration and teamwork has been pivotal in our team's success. Your inclusive approach to problem-solving and open communication creates an environment where everyone feels valued and heard.
Dear [Employee's Name], your unwavering commitment to [specific project] and your ability to bring the team together to achieve our goals has been truly inspirational. Your leadership and collaborative spirit have made a lasting impact on our organization.
Closing Thoughts
A heartfelt, meaningful employee appreciation note can work wonders for boosting morale, strengthening relationships, and fostering a positive workplace environment. Remember to be specific, sincere, and thoughtful when crafting your messages of gratitude. By taking the time to acknowledge the unique contributions and accomplishments of your colleagues, you can create lasting connections and empower them to continue making a positive impact within the organization.
As you deliver these appreciation notes, consider the most appropriate time and method for maximum impact. A handwritten note, a public shoutout during a team meeting, or a personal email can each be effective, depending on the individual and situation. The key is to make each note personal and unique to the recipient, so they truly feel valued and appreciated.
With these tips and examples, you are well-equipped to spread gratitude throughout your workplace and foster a culture of appreciation. So, go ahead and make someone's day by letting them know just how much they mean to you and the organization. The impact of your words may be more significant than you realize.