Best Nonprofit Job Boards: Free And Paid – 2022 Prices
Disclaimer: This post may contain affiliate links. These links, if used and purchases made, we may earn a small commission. These affiliate programs do not impact the recommendations we make or the resources we refer you to. Our focus is on providing you the best resources for your nonprofit journey.
When your nonprofit grows to a point, it needs to hire staff. Having a clear strategy for recruiting is important.
Over the years, we've seen trends come and go. However, online job postings are still an extremely effective way to ensure that qualified candidates are aware of your positions.
Nonprofits can greatly benefit from an online job posting as part of a recruitment strategy.
Nonprofit job board fees for employers range from FREE to $668 for a standard 30-day job posting. The average price is $145.78, and the median post price is $100.00. This does not rule out using job boards like LinkedIn and Indeed, however nonprofit-specific job boards may perform better in finding candidates aligned to your mission.
Jost boards are not the sole solution to nonprofit recruiting. There are many ways to improve your ability to attract top nonprofit talent.
For small and medium-sized nonprofits and businesses, I'm going to be controversial and say, don't post everywhere so that you can cast a big net. Instead, be strategic when posting those critical roles. Let's talk about how to maximize the return on your job postings.
The Largest Job Posting Sites – Not Specific To Nonprofits
Let's get the big ones out of the way. Yes, with these sites, you will get lots of exposure for people looking for criteria that match your posting. 
Top 5 Nonprofit Job Board Picks
Our list of nonprofit-specific job boards contains over 50 options for you. But, the question that inevitably gets asked is, "what are the best job boards for nonprofits?" 
Here are our top nonprofit job boards for the value. 
Depending on your social impact niche, you may find better results in a niche-specific board on our list.
Best Free Job Postings Sites For Nonprofits
Best FREE job boards for nonprofits
Is Idealist.org Worth The Price? 
Arguably, Idealist.org is the second-largest Social Impact dedicated job board in the world. The Idealist.org website has approximately 1.3 million visitors per month and has an Alexa rank of 26,818. 
In our list, the Idealist.org Alexa ranking is only beat out by the DevEx domain, which sits at 22,681 and approximately 7,161 job postings versus Idealist.org's 6,644. 
A job post (ad) for nonprofits on Idealist currently costs $105 for a 30-day job posting. Internships will cost you $25 for 30 days, and volunteer postings are free. 
If you know you need to post several positions in the year, you can purchase Job packs for additional savings. Note, these are "use 'em or lose 'em" so only get what you know you will use.
Not only does Idealist.org have a ton of traffic, but they also include a lightweight Applicant Tracking System (ATS) for people who apply through Idealist.org. If you do not already have an ATS solution, this might benefit you in managing the pipeline of candidates.
A few others do this as well, including Indeed and LinkedIn.
With high-volume websites, there can also be a downside. 
Sites like Idealist.org, LinkedIn, or Indeed have so many job openings that your listing may get lost in the sea of jobs available for prospective talent to review. 
That is where you will need to make your job opening stand out. Doing a copy/paste on a job description is not going to do that. Put time and effort into getting your organization's culture into your post. 
For organizations with the budget and want to cast a wider net of potential applicants explicitly looking to serve in a social impact organization, we would say yes, Idealist.org is well worth the cost.
You'll have to weigh the pros and cons. 
Local Job Boards You may Not Have Thought About
No doubt, since most nonprofits are local or regionally based, local job boards may be the top option for finding local talent to join your team.
Here are a few local job boards you may not have thought of. 
Local United Way websites. Your local United Way may have a job board on their website like Smith County, Texas. You'll find nonprofit-minded individuals who may know someone with the passion and skills you are looking for. Most allow you to post jobs for free.
Local Radio Station Job Boards. Your community no doubt has local radio stations, or the next biggest market does. Many have a job board to help connect listeners to opportunities. Try this out. Some will even spotlight specific opportunities on-air. This is how I landed at an international ministry for almost ten years.
Chambers of Commerce Job Boards. Check with your local Chamber of Commerce to see if they have a job board available to members. If so, take advantage of this perk to get local eyeballs on your job openings. Bryan College Station, Texas does this. 
Local AFP Chapters. While the AFP has a complete job site, your local Association of Fundraising Professionals chapter may have its own job board online. You can find your local AFP chapter here. 
Local Businesses. Local business owners who are somehow related to your cause, or are donors, may be happy to post something in their storefront, on social media, or their website for you. Again, asking is free. Just be careful not to keep asking the same donors and cause fatigue with your asks.
Local Online Groups. Whether it is a regional tourism website with lots of traffic or a local Facebook group, if you have an online meeting place for your local area, see if posting about your openings is allowed, especially since you are a local nonprofit. 
Best Free Job Posting Sites (Post Jobs For Free)
There are many websites that allow employers to post jobs for free. This is a great way to reach a large number of potential candidates quickly and easily. Some of the best free job posting sites include:
Philanthropy News Digest Job Board
Fast Forward Job Board
New Mexico Association of Nonprofits
Center for Nonprofit Resources
CMB (Christian Music Broadcasters) Job Board
Local United Way Job Boards
Local Radio Station Job Boards
Best Job Boards To Advertise Social Impact Fundraising Job Openings
When it comes to recruiting fundraising professionals, the AFP (American Fundraising Professionals) is the place to go. Post your roles on the AFP job Board. 
Idealist.org is undoubtedly another fine place to post and recruit for professional fundraising positions.
Philanthropy News Digest has many development and fundraising jobs available for candidates. If you are a recruiter for a nonprofit, take a look and see what you think. There are plenty of job seekers looking here.
Best Job Posting Sites to Advertise I.T/Technology Positions
Another great job board for nonprofit technology positions is the NTEN job Board. 
If you haven't heard of FastForward, you need to check them out. For nonprofit technology jobs or jobs with technology nonprofits, the FastForward job board might be a good option.
And yes, Idealist.org could be a good spend for your recruiting budget when it comes to I.T. positions.
Many I.T. and technology jobs could work well as remote staff. Carefully consider this and then use Virtual Vocations as part of your recruitment plans.
A new edition to our list is Tech Jobs For Good, created and run by Noah Hart. For people like me, this board is a great way to find positions or candidates that are already pre-disposed to doing good with mission alignment.
Best Boards To Post Jobs for Foundation/Grant Positions
When it comes to grants and foundations positions, there are a few good options.
Take a look at Foundation List and get eyeballs on your openings. 
Another option is the job board at the Council of Foundations. 
It would make significant sense to include Work For Good and Idealist in your recruiting strategy in some organizations. Lots of eyes could review your opening.
One other thought. Grant writing positions could be well suited with remote staff. Carefully consider this and if you decide remote staff could be a huge benefit, check out Virtual Vocations for your job posting.
Best Places to Advertise Senior / Executive Leadership Roles
ExecSearches is a top site to post your executive and senior-level leadership roles. 
If the role you are hiring for is in international development, you need to try DevEx's job board, where the niche is more specific.  Let's be clear, DevEx is a media outlet for international development, but that reach means more eyeballs, and if you need to cast a global net of candidates, you found the place. 
There is no harm in posting on the big Idealist.org site, as it does have quite a bit of traffic. Unfortunately, Idealist.org does not have a featured job posting option to give more visibility to the opening. So, some looking for an executive role will need specifically to search for it. 
Finally, for critical executive roles, don't be afraid to engage with a recruiting firm specializing in your type of nonprofit placements. Yes, there is a high cost. However, having key roles vacant or hiring the wrong person will cost your organization much more. 
Best Places to Advertise Church and Ministry Job Openings
There is another element to finding the right person for Christian organizations and ministries, a vibrant, authentic Christian faith and lifestyle. 
While you may want to post on the big job boards, there are other places to post that may get you further in your recruiting efforts more quickly.
ChristianJobs.com is one of the more well-known and frequented Christian job boards in the world. 
Other options include:
Best Places to Post for Veterinarians / Animal related roles
If you need to hire Veterinarians, there is one specific place you want to get listed. That is the AVMA (American Veterinary Medicine Association) and their job board. 
For shelters, see about posting on the Association of Shelter Veterinarians career site. 
List of Nonprofit Job Posting Sites by Job Postings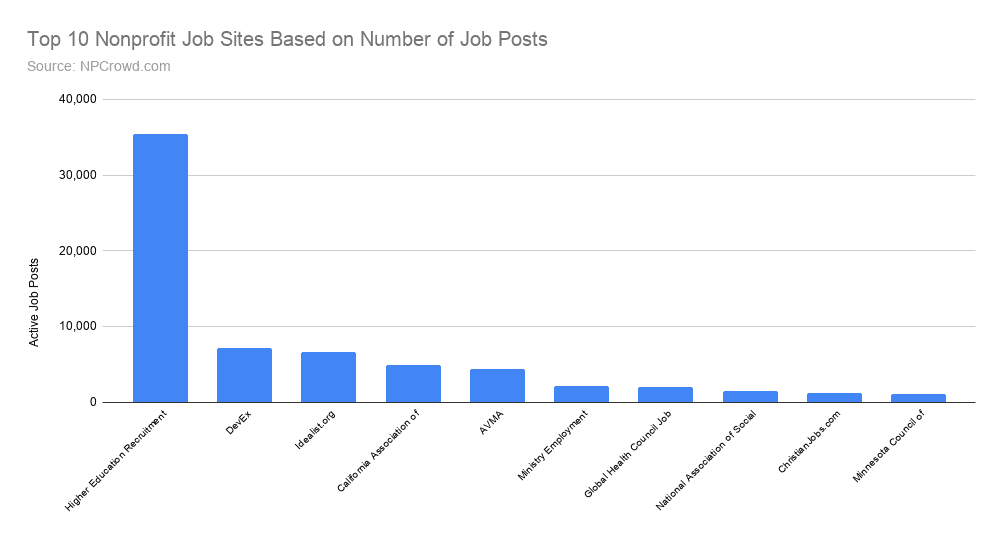 Many times, the more job postings on a job board, the more visitors to the site it will have. But, that's not always the case.
At times, you may want a site that has fewer job postings while still having higher traffic, allowing your post to stand out from the pack. This analysis may help you discern what is best for you.
Top Alexa Ranking Nonprofit Job Posting Boards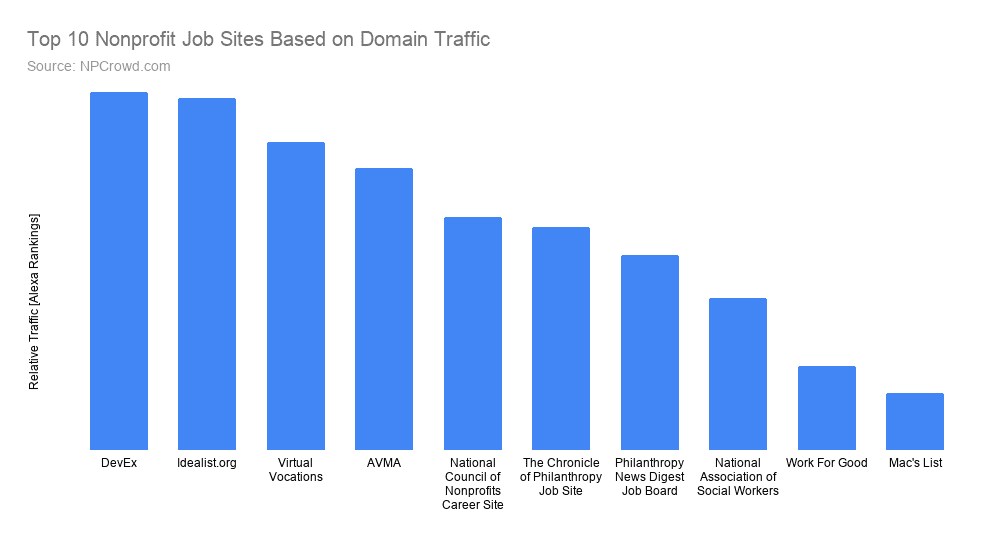 In this analysis, we used the Alexa site info ranking. This ranking is based upon traffic and engagement of the domain name. As you read our results, the lower the Alexa Rank, the better the traffic and engagement of the domain in comparison to all other internet domains. If the number of people visiting a given site is important to you, this ranking may give some perspective.
Remember, this is ranking is for the domain name, not just the job postings within the domain.
Full List of Nonprofit Job Boards By Price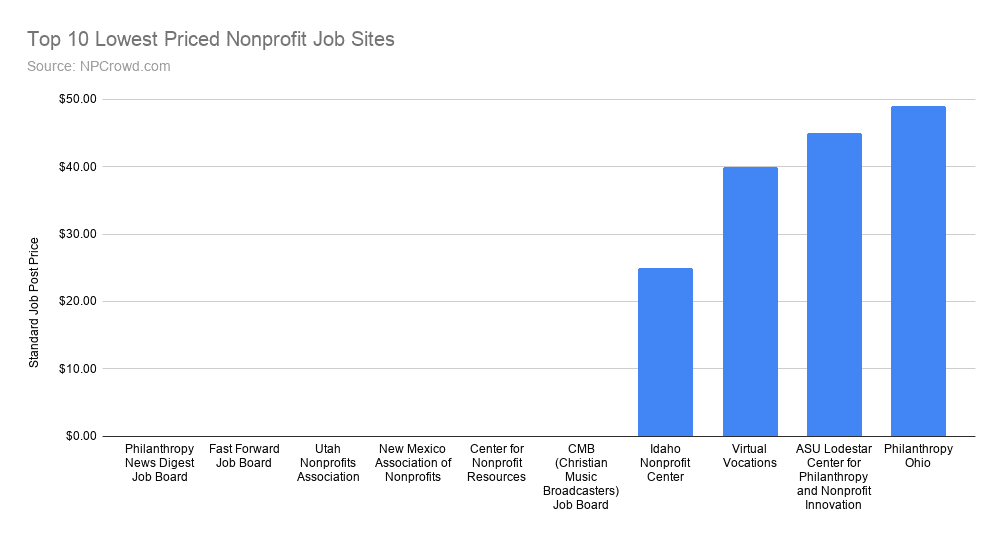 Why Does It Matter Where You Post Nonprofit Job Openings?
Nonprofits, like any employer, want to find a unicorn candidate that can do the job at an exceptional level and bring additional benefits to the organization. 
Often the advice given is to post your job openings in as many places as possible, especially for free. 
I disagree.
It's not only about the number of applicants, but the quality of those candidates. This means we are not only going to use the world's largest job boards but look for sites and communities that cater to the job seekers we are looking for with our job opportunities.
Here are three reasons why where you post your jobs matters.
1. Shotgun Approach to posting job openings increases direct costs
Posting your job openings anywhere and everywhere will cost you more because you are posting on more job boards.
How? That's simple, the best boards are likely not free. The more paid job postings you make, the more it will directly cost your organization.
Now, those costs are small for critical positions given the huge value these positions bring your organization. But, as good stewards of the dollars we have, pick and choose where you pay for postings.
More is not always better.
2. Mass job postings increase your indirect costs
Did you consider that free is not free?
A high-quality application process means that every applicant receives the communication. 
Failing to respond to applicants when the position is filled or you are not interested in the candidate for the role is not okay. Every candidate needs communication. Your employer brand depends on it.
When organizations blast their job openings, they are increasing the number of unqualified candidates. Now, the hiring team must take time to communicate with every candidate. Like it or not, time is money, nonprofit or for-profit.
Focus energy on the most significant return.
I suggest starting your job post recruiting focused on a small, specific audience and then broadening if needed. 
This approach will maximize your team's time processing candidates but allows widening the net if you need to.
3. Where you post can damage your employer brand
When you post job openings, what you post and where you post impacts your employer brand. 
Blast a job everywhere, including free, low-quality boards, and your organization may look desperate or worse yet, cheap, not concerned about quality, and does not hire the best people. 
You've worked too hard to get to the place of hiring staff. Send the right message.
Shop In The Right Places
Lastly, let me use a shopping analogy. 
When you are looking for new, 1000 thread count Egyptian cotton sheets, where do you go? 
Walmart is probably not the first place I would go for that item. They are not known for carrying luxury sheets like this. 
On the other end of the spectrum, I'm not going to book a trip to Italy to check on the Frette Hellas Seaweed Border sheets that run about $1695.
What I will do is take some time to research mid-range stores that carry multiple brands of Egyptian cotton sheets. That way, I can make one trip, check out all the options, and select the best one to buy. 
Posting jobs should be a similar process.
Take time to figure out where people are looking for work that has meaning and are interested in the type of work you do, and have the skills and experience you need. 
Then begin the recruiting process with job postings in those unique places. 
By far, this will be the most significant improvement in your candidate pool for non-entry level roles outside of personal referrals.
Finding those best places to post nonprofit jobs is time-consuming at first. 
We've taken our team's collective experience, along with other nonprofit leader input, to create a shortlist you can start and maximize your online job posting recruitment strategy. 
Keep in mind that local or regional organizations may have more specific sites for your locale that will be even better. Take a little time to look. 
The downside we've seen is getting a high volume of candidates with no interest in your mission. 
If mission alignment is vital to your hiring process, this is not time well spent. It means that you will be spending a significant amount of time vetting candidates only to find out they are looking for any job without connecting with your cause. 
When it comes to nonprofit employee engagement, alignment and excitement about your mission are among the top factors. More engaged staff do better work and are willing to put in an increased effort as a result. 
So, go ahead and use the big sites if you simply need candidates, but be aware of the short and long-term costs. Some of the biggest sites are Indeed, LinkedIn, GlassDoor, CraigsList, ZipRecruiter
Should We Advertise Volunteer Positions?
Absolutely! Post those volunteer opportunities while also working your local networks. 
Many job boards will waive or reduce the fee when posting volunteer or internship opportunities. Ask if you are not sure. 
Related Questions
Are there any free non-profit job boards? You bet there are, check out the list above. Those sites include PND (Philanthropy News Digest), FastForward, Christian Music Broadcasters, Indeed, and Google Jobs.
Are online job postings worth it for nonprofits? Yes, online job postings as part of a nonprofit recruiting strategy are highly valuable. Depending on the type of role and value it is anticipated to bring to the organization, job posting fees are minuscule in the grand scheme of things when it comes to finding top talent for your nonprofit.
Did We Miss Your Most Productive Nonprofit Job Board?
Do you have a nonprofit job board that we missed? Let us know using the form below. We'll add it to our update list for review and consideration.
Share your knowledge with other nonprofits. After all, that is why NPCrowd exists.