Winning Individual Leadership Development Plans: Template Included
Disclaimer: This post may contain affiliate links. These links, if used and purchases made, we may earn a small commission. These affiliate programs do not impact the recommendations we make or the resources we refer you to. Our focus is on providing you the best resources for your nonprofit journey.
Growing your current and future leaders is vitally important. We define nonprofit leadership development plans and provide templates as an example to get you started. 501c3 organizations cannot forget to develop internally. We will answer the question, "how do you write a leadership development plan"?
Introduction
57% of human resources executives said cultivating their company's existing and future leadership pipeline is a top 2020 priority, according to a recent Gartner study. We believe this trend will continue in 2021-2022.
They agreed that driving decision-making and planning responsibilities deeper into their organizations is an important focus.
A World Economic Forum report agrees and forecasts that leadership and social influence will remain two of the fastest-growing workplace skills through 2022. 
77% of CEOs responding to a PwC CEO Survey report shared concern that the lack of critical leadership skills would negatively impact their companies' growth.
This much importance requires developing a strategy and individual leadership development plans. But how can you ensure you have an intentional and effective leadership development plan? 
This guide will cover the basics, provide critical tips, and equip you with a nonprofit leadership development plan template. 
What is leadership development?
There is a distinction to be made between leader development and leadership development. However, the terms are used most of the time interchangeably. 
Leader development is an older model focusing on the leadership capability of an individual. This model tends to be a more siloed approach and may focus more on skills.
Today, leadership development emphasizes a more systemic approach. This approach grows not only an individual's capacity and capability but also the interactions between leaders. The organization gains while its team grows in strength and ability.
James O'Toole describes the differences between the two approaches this way. The previous paradigm of leader development asks the question, "what qualities do we need to develop in our leaders?". 
Even in a 501c3 nonprofit organization, the new view of leadership development means we should be asking, "what qualities do we need to develop in our organization?". The questions and answers are very different. 
We embrace the latter question, which encompasses individual growth in the context of an organizational system of development—the best of both worlds.
In this new leadership development paradigm, teams at all levels receive training in the invaluable leadership skills that allow them to properly lead, inspire, and guide their teams, with emotional intelligence to succeed. The development of leaders considers the context of what the organization needs in the short term and the long term.
What is a leadership development plan?
A leadership development plan is a document that identifies opportunities, sets goals, and measures the growth of a current or future leader over a specific period of time. 
Effective leadership development requires intentionality. Planning brings intentionality.
This intentionality required is threefold; the organization, the facilitator, and the individual. 
See, it is a team effort to do systematic leadership development. 
You start by developing the leadership development strategy for your organization. This strategy includes the organizational goals for leadership development along with the person accountable for achieving these goals. 
Once you have the strategy, it's time to be intentional about the individuals. That's where the plan comes in.
Being intentional means stopping to invest time, energy, and resources into a plan. 
Documenting the nonprofit leadership development plan gives all stakeholders a common playbook.
This playbook should achieve six things:
Establish personal/organizational objectives
Identify knowledge, skills, and experience needed
Set clear, individualized, S.M.A.R.T. goals
Communication relational items
Specify learning methods
Clarify the frequency of assessment and measurement
These plans may be part of a larger professional development plan as part of a larger leadership development program. You are helping your top nonprofit employees to have a career vision that moves them and your organization forward.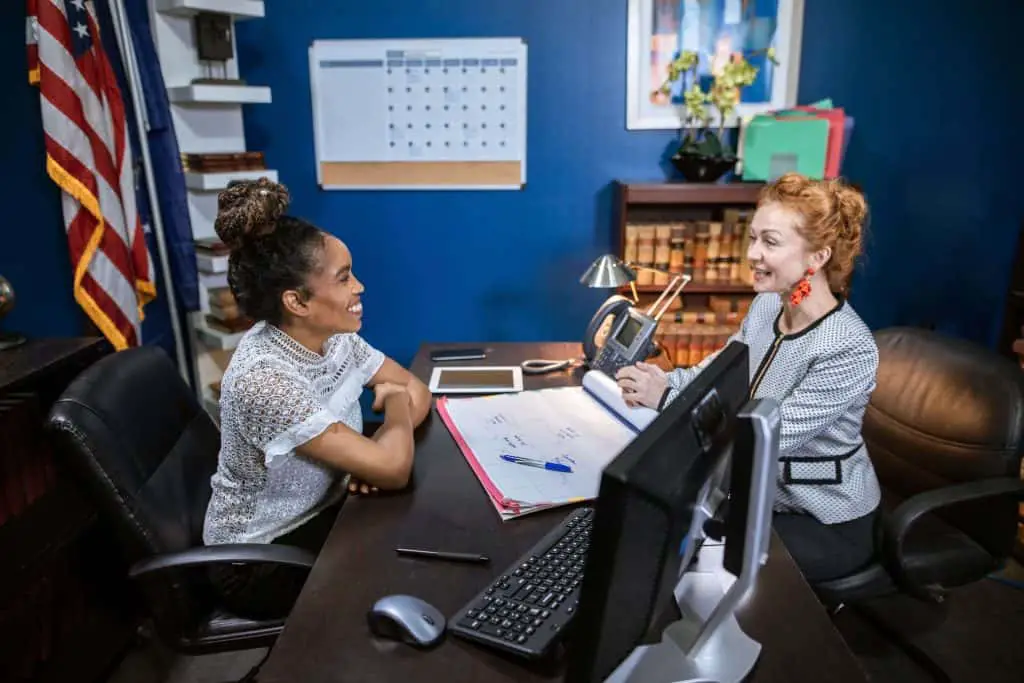 What should be included in a leadership development plan?
It won't surprise you that there are many ways to begin creating a leadership development plan.
After reviewing many plans, we have identified six common items to include.
1. Business and personal objectives
Identify and define key objectives for the leader to achieve over the next year or two.
When accomplished, these objectives will have moved your organization forward in a powerful way and your career path.
For example, "become more strategic in activities and delegate operational tasks more regularly".
These are not SMART goals, but rather objectives for the organization, personal career development, and current role.
2. Skills, knowledge, or experience needing development and mastery
Now that you have the objectives defined, it is time to understand what's missing to achieve them. 
When you think about each objective, identify what is needed to achieve them. 
In leadership roles, look at if the missing component is the need to gain specific knowledge, learn a skill, or additional experience. 
Knowledge is learning the factual information about a topic, tool, or process. 
A skill is the ability to apply the knowledge learned. 
Experience is the real-life application of knowledge, skills, and wisdom.
For example, to achieve the more strategic activities objective, the leader may need to learn better delegation techniques. The first area may be to learn a framework to help identify delegation opportunities. Then apply those areas directly.
3. Set S.M.A.R.T goals
With the objective and skills identified, we move to setting SMART goals. These goals should demonstrate learning and growth in skill areas. 
One goal for our example could be to "read the book Traction and complete the Delegate & Elevate tool in the next 30 days and applying the new delegation opportunities successfully in the next 90 days."
Another example may be to "increase fundraising from a recurring giving program by 40% in the next 12 months."
4. Mentoring and network participation
The best leaders are not lone wolves. 
Instead, they have a network of peers and mentors that help them navigate the intricacies of leadership. 
These networks are a two-way street and require the leaders to give back in meaningful ways.
Every leadership development plan should include a network and community component. 
Is there a well-organized group of COO's that meet regularly as a resource for your up and coming COO candidate? 
This may mean identifying potential mentors for the leader that will give them straight talk.
Be sure the mentors are on the same page about the leadership style your organization is emphasizing. i.e. don't match an autocratic leadership mentor with a team member where servant leadership is the standard.
5. Methods of learning and skill acquisition
Another component of a nonprofit leadership development plan is the method of learning.
We discussed the need for intentionality earlier. An important intentional step is to be specific about "how" the leader will gain the needed skills, knowledge, or experience. 
The point is to identify the means by which the leader will go about developing leadership skills, or gaining needed experience.
Training classes and costs can be identified and agreed to. 
Books and other materials specified.
Conferences or network group gatherings planned. 
Each leader learns differently. The knowledge, skills, and experience needed will require different methods. 
Take time to work with each leader to clarify the methods of learning.
6. Frequency of measurement and assessment
The final ingredient of every plan is a need to assess and measure progress. 
Including the frequency and methods of assessment and measurement provides clarity for all involved.
Perhaps a 360 degree review is called for. 
How about passing a certification test to demonstrate learned knowledge. 
How often will you or another facilitator meet with the leader to provide feedback. Will it be monthly or quarterly? 
Be clear and agree in the beginning. This will keep anyone from saying the goalposts were moved in the process.
Why is a leadership development plan important?
Leadership development shares importance regardless of nonprofit or for-profit sectors. It is an investment that can pay dividends and become a real business advantage. 
1. Leadership development encourages organizational longevity
Coaching up the next generation of leaders, helps ensure your organization can grow. 
Top leaders will retire or select out. Having a bench of qualified, skilled, internal leaders ready to fill the gaps ensures continuity of progress.
2. Talent retention strategies include leadership development
Nonprofits are notorious for higher turnover than for-profit sectors. 
Leadership development is an investment that can help in retaining top nonprofit talent you worked so hard to find. 
3. Leadership development leads to good fiscal stewardship 
The cost to hire someone from outside your organization can exceed 20% of their salary. 
You can reduce that cost by promoting a qualified internal candidate. Those you have helped develop as leaders. You can say "No" to the expenses of hired recruiters, job ads, applicant tracking, or organizational learning curves.
Internal leaders already understand the details of your operations. They will help retain customers and clients, helping ensure the achievement of revenue goals. 
4. Innovation is driven by good leadership
When trained and influential leaders fuel your organization, your staff are inspired and believe in your mission. 
They use that inspiration to drive toward innovative solutions and increase impact.
5. Good leaders fuel greater organizational agility
Change is a sign of growth. Managing change is both a skill and a mindset. A culture of leadership embraces change, communicates it well, and pushes to get the right people in the boat along the way. 
Handling change well is a critical component of being agile as an organization.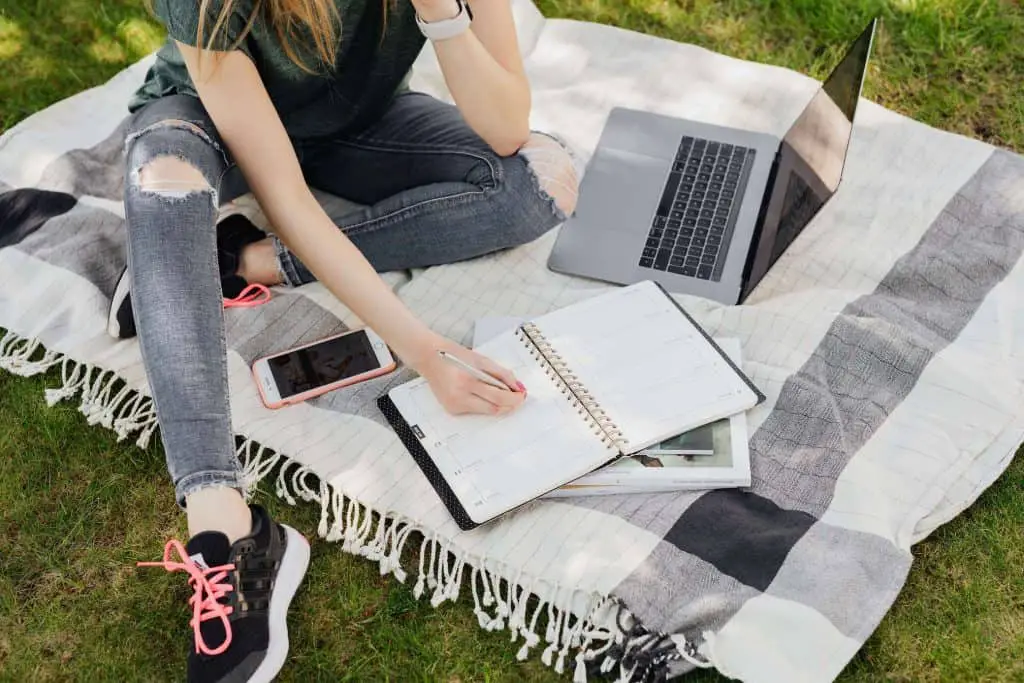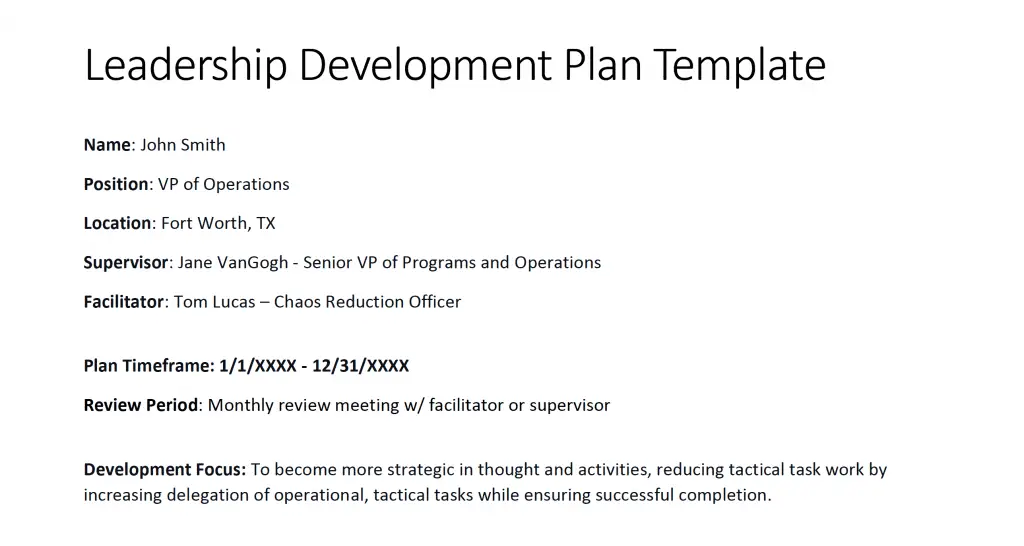 Leadership development plan examples
There are plenty of leadership development resources that will tell you the basics of what a plan should include. But, few give you examples and templates. 
We are going to share leadership development plan examples and templates we have used or found. These will give you a head start.. 
Leadership Development Template – Short and simple
Download PDF version
Download DOCX version
Name: John Smith 
Position: VP of Operations 
Location: Fort Worth, TX 
Supervisor: Jane VanGogh – Senior VP of Programs and Operations 
Facilitator: Tom Lucas – Chaos Reduction Officer 
Plan Timeframe: 1/1/XXXX – 12/31/XXXX 
Review Period: Monthly review meeting w/ facilitator or supervisor 
Development Focus: To become more strategic in thought and activities, reducing tactical task work by increasing delegation of operational, tactical tasks while ensuring successful completion. 
Action Plan 
Development Action:  Read the following books 
Timing: One book per month completing 5/1/XXXX 
Cost: Approx. $60. 
Development Action:  Complete the Delegate and Elevate tool as part of EOS, identifying a minimum of 10 delegation items. 
Timing: Complete by 5/1/XXXX 
Cost: $0 – Just time 
Development Action:  Add as many of these development action items as needed. 
Timing: Always give a specific completion/achievement date 
Cost: Estimate if not fully known. This allows budgetary approvals. 
Add specifics as part of your S.M.A.R.T. Goals 
Leadership Development Template – Tabular w/ Strengths & Opportunities
Download PDF version
Download DOCX version
Name: John Smith 
Position: VP of Operations 
Location: Fort Worth, TX 
Supervisor: Jane VanGogh – Senior VP of Programs and Operations 
Facilitator: Tom Lucas – Chaos Reduction Officer 
Plan Timeframe: 1/1/XXXX – 12/31/XXXX 
Review Period: Monthly review meeting w/ facilitator or supervisor 
Development Focus: To become more strategic in thought and activities, reducing tactical task work by increasing delegation of operational, tactical tasks while ensuring successful completion. 
Top 3 Strengths 
Relational capital with teams 
Strong operational knowledge 
Excellent accountability leadership 
Top 3 Development Opportunities 
Being the technician rather than strategist 
Identification of delegation opportunities 
Communication of strategy vs. Operational details 
Feedback
How did you like this article? Did we miss something? Let us know by leaving a comment below.
Do you have other resources that you've found helpful for 501c3 leadership development plans and examples? Let us know.