D&O Insurance: Do Nonprofit Need It – Explained
Disclaimer: This post may contain affiliate links. These links, if used and purchases made, we may earn a small commission. These affiliate programs do not impact the recommendations we make or the resources we refer you to. Our focus is on providing you the best resources for your nonprofit journey.
As a nonprofit organization, you face many risks. One of these risks is the potential for directors and officers of your organization to be sued for wrongful decisions or actions. D&O insurance is designed to protect directors and officers from these types of lawsuits. But does a
nonprofit need it
?
Nonprofits in the United States are not required to have D&O insurance coverage unless dictated by state law. However, nonprofit organizations should have D&O insurance (Side A & B) because 94% of claim dollars under a D&O policy are related to allegations around employment practices. D&O coverage is not expensive yet helps protect your officers and the organization.
In this article, we will explain what we've learned about what D&O insurance is, what it usually covers, how much it costs, and how you can get it for your nonprofit.

What is D&O insurance?
D&O insurance is a type of insurance that protects directors and officers of a company or nonprofit, and their personal assets, should they be sued for wrongful decisions or actions related to their duties. Nonprofits need D&O insurance because it can help protect the organization and key employees, board members, or volunteers from financial damages if they are sued.
Many startup nonprofits falsely assume that they don't need D&O insurance because they are doing good work and that means they won't be sued. This is a dangerous assumption to make. Even if you are a small organization with a limited budget, you should still consider purchasing D&O insurance. The cost of defending a lawsuit can be very expensive, and D&O insurance can help cover the costs of a legal defense.
D&O insurance is not included in the typical umbrella or general liability policy that a nonprofit will purchase. Liability insurance only covers the organization, not the individuals who work for the organization. D&O covers the individuals who make the decisions for the organization.
Why Do Nonprofits Need Directors and Officers Liability Insurance?
Nonprofits are usually in the business of doing hard things, in difficult places, under difficult circumstances. There is no less opportunity for lawsuits than there is for for-profit businesses.
Nonprofit directors and officers may need to make difficult decisions. The Directors and Officers insurance coverages will help protect them in the case of a lawsuit.
There are a few key reasons why nonprofits need Directors and Officers (D&O) insurance coverage that you might consider:
1. Nonprofits are often held to a higher standard than for-profits. This higher standard means that nonprofits may be more likely to be sued for wrongful decisions or actions. There is an assumption that nonprofit leaders are acting in the best interest of the public, rather than for private gain. But what happens if a donor, constituent, client, employee, volunteer, or court sees things differently? D&O insurance can help.
2. Many nonprofits have fewer financial resources than for-profit businesses. If a nonprofit is sued, it may have a harder time paying for legal defense and any damages that are awarded. This could lead to the organization shutting down. You need to protect the organization.
D&O insurance can help protect a nonprofit from some of these risks. It can pay for the costs of a legal defense and any damages that are awarded. This can help the nonprofit stay in operation.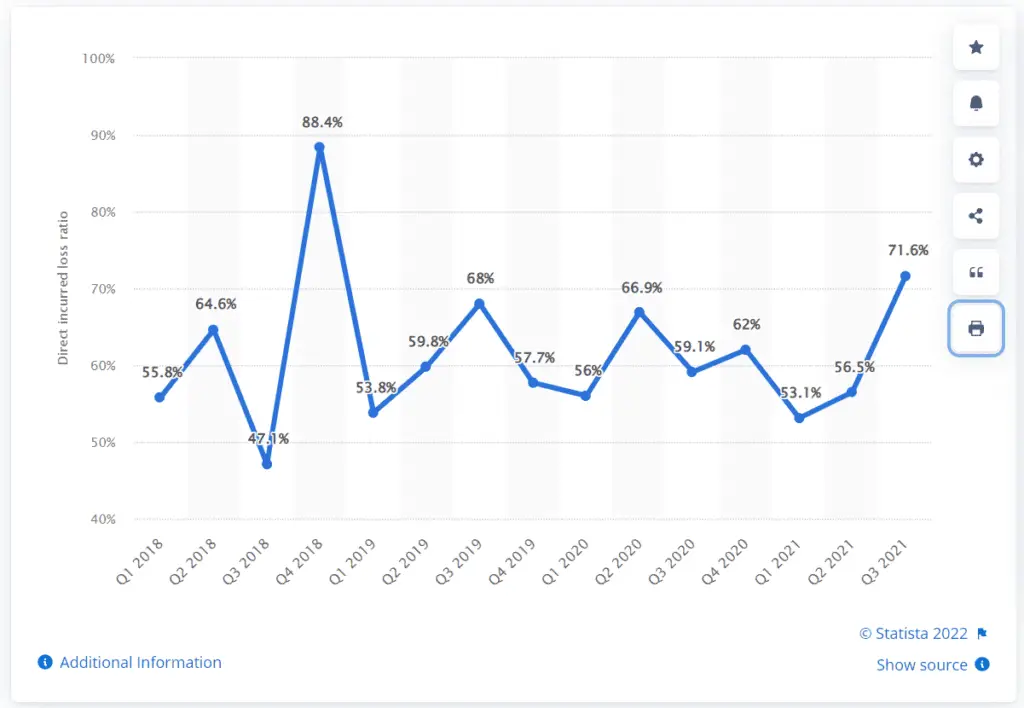 What does D&O insurance cover?
D&O insurance is designed to protect directors and officers of a company who are held liable for any wrongful or illegal actions that they may have carried out in the course of their work. This insurance can also cover the costs of defending against any such claims.
However, it does not protect those who deliberately commit criminal or malicious acts. The coverage typically extends to any legal claims that are brought against the directors and officers, regardless of whether or not they are found to be liable.
It is important to note that D&O insurance does not cover any claims that may be brought against the company itself. That is where other coverages such as general liability, errors, and ommissions insurance come in.
There are a number of different types of insurance policies available for D&O coverage, and the exact coverage will vary depending on the insurer and the policy chosen. However, most policies will provide protection for claims arising from breach of duty, fraud, or other wrongful or illegal actions.
D&O insurance can be an important part of risk management for companies, particularly those with high-profile directors and officers. It can help to protect the individuals concerned from personal financial ruin in the event of a successful claim against them.
Types of D&O Insurance Policy Types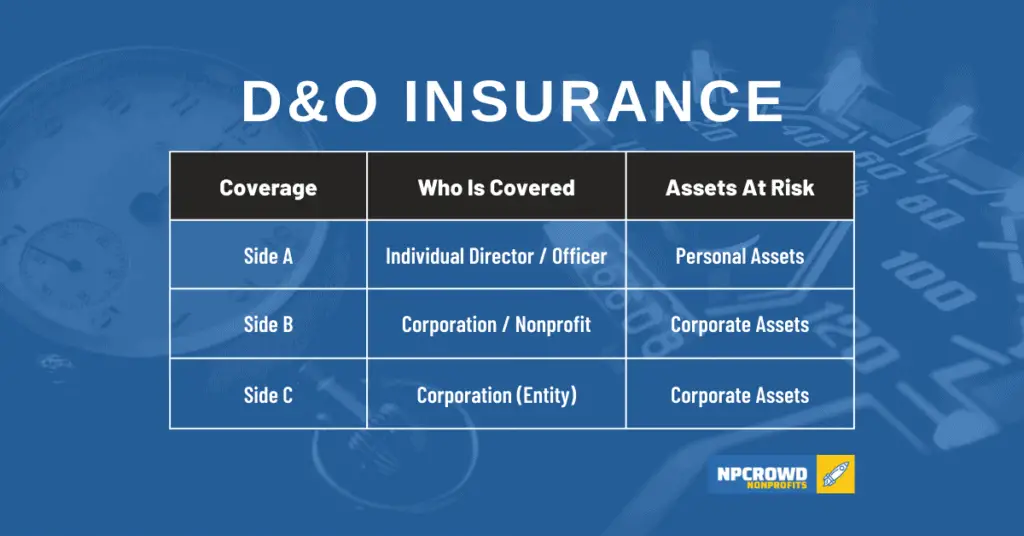 When it comes to D&O insurance coverages, there are three types: Side A, B, and C. Each type of coverage has its own distinct advantages and disadvantages, so it's important to understand which one is right for your company.
Side A coverage: Side A is the most important type of D&O insurance for directors and officers. Side A coverage protects directors and officers from personal financial losses arising out of claims made against them for wrongful acts. Side A coverage is typically written on a "claims-made" basis, which means that the policy will only cover claims that are made during the policy period.
Side B coverage: Side B is designed to reimburse the company for any amounts that it pays to settle a claim made against directors and officers. Side B coverage is typically written on a "claims-made" basis, which means that the policy will only cover claims that are made during the policy period.
Side C coverage: Side C is for publicly traded companies and is used for securities claims only. (i.e. private companies and nonprofits won't have this Side C coverage)
| Coverage | Who Is Covered | Assets At Risk |
| --- | --- | --- |
| Side A | Individual Director / Officer | Personal Assets |
| Side B | Corporation / Nonprofit | Corporate Assets |
| Side C | Corporation (Entity) | Corporate Assets |
Directors and Officers Insurance Types (Nonprofits typically would use an AB policy rather than ABC)
What does D&O insurance not cover?
Remember that D&O coverages do not replace general liability policies.
Another way to think about it is that D&O liability does not cover any physical injury claims, it only covers financial damages for directors and officers while fulfilling their organizational duties.
Additionally, D&O policies will not cover any illegal or fraudulent activities that the directors or officers knew about. If the D&O policyholder is convicted of a crime, the damages may not be covered.
How much does D&O insurance cost?
The cost of D&O insurance will vary depending on the size and scope of the organization, as well as the amount of coverage requested. However, nonprofits can expect to pay anywhere from a few hundred dollars to a few thousand dollars per year for their D&O insurance.
When pricing D&O insurance the factors that contribute to the variability of price are the:
Size of the Organization
Revenue of the Organization
Number of Board Members
Number of Employees
Location of the Organization
Industry of the Organization
Other risk factors such as pending or historical litigation
Some general pricing information for D&O insurance is as follows:
Small nonprofits with annual revenues of less than $5 million and fewer than 50 employees, typically cost between $500 and $1,000 per year.
Medium-sized nonprofits with annual revenues of $5 million to $25 million and fewer than 250 employees, typically cost between $1,000 and $2,500 per year.
Larger nonprofits with annual revenues of more than $25 million and more than 250 employees, typically cost between $2,500 and $5,000 per year.
| Organization Size | Revenue | D&O Costs (est. annual) |
| --- | --- | --- |
| Small | < $5 million | $500 – $1000 |
| Medium | $5 million to $25 million | $1000 – $2500 |
| Large | > $25 million | $2500 – $5000+ |
The estimated cost of D&O insurance based on nonprofit revenue size (general)
How much D&O coverage should a nonprofit get?
There is no easy answer when it comes to how much D&O coverage a nonprofit should get, as the amount of coverage will vary depending on the size and scope of the organization. However, it is generally recommended that nonprofits carry a D&O policy with at least $1 million in coverage.
Employment practices coverage is also suggested to be no less than $1 million dollars.
Policies will define what limits are available for all coverages or may list specific limits for specific coverages separately. For instance, a policy may list Directors and Officers coverage with a limit of $5,000,000 and Employment Practices at $1,000,000.
These are the limits of what each coverage will payout at maximum.
Is nonprofit D&O insurance different than for-profit business D&O insurance?
Nonprofit D&O insurance is typically quite similar to the same coverages for private businesses.
Now, the cost for coverage may be less because the risk is often less with a nonprofit. And, some insurers will give a discount to a nonprofit organization. However, nonprofits still face many of the same risks as for-profit businesses, so it is important for them to have adequate D&O insurance coverage.
One difference between nonprofit coverage and publicly traded corporations is the nonprofits do not need Side C coverage which is related to securities laws. Nonprofits and private businesses do not have this liability.
What To Look For In D&O Insurance Coverage? [Tips]
Not all policies are the same. We have learned to look for a few key elements in a policy thanks to helpful experts and agents along the road.
Employment Practices
Did you know that over 94% of D&O policy claims originate from employment practices allegations? Even if you didn't pass your statistics class, there is no doubt that this is the number 1 most probably type of suit that may come your way.
So, it is important to ensure the policy you are looking to purchase actually covers many areas of employment practices and be sure you understand the exclusions to coverage. Not every D&O policy contains a broad coverage against employment practices liability.
We've found it helpful to understand if the following are included or excluded from coverage:
Breach of Contract (Employment contracts)
Coverage under federal law
Coverage under state law
ADA (Americans with Disabilities Act) context
Sexual harassment
Wrongful Termination
Discrimination
Advance Legal Defense Costs
You already know, I'm not a lawyer and don't play one on TV. None of the information we share should be considered legal counsel. We're just sharing our experience and are happy to continue our learning.
However, one thing that an agent helped me realize was the confusing language in a policy about "loss" and defense costs.
See, some policies define loss as the amount the insured has paid. Well, with that language, you are looking at a reimbursement of defense costs. That means you have to pay out of pocket up front and eventually be reimbursed by the insurance company if they concur with the expenses.
Knowing how expensive legal defense fees can pile up, this can quickly exceed the insured's ability to cover these upfront costs.
Instead, you want to find language about legal defense fees being paid in advance, meaning that the insurer will cover the legal defense fees upfront rather than the insured. It's a subtle language difference but can make or break the situation.
Definition of Insured
Want to know who is covered? Find the definition of "Insured" in the prospective policy. For nonprofits, we recommend looking for a broad definition of "insured" that goes beyond just directors and officers. We want to find a definition that is broad enough to cover directors, officers, employees, volunteers, interns, and even committee members.
Using a broad definition of "insured" helps protect all people within your organization while also ensuring the organization itself is protected. Ask your agent about this.
What does a D&O coverage application ask for?
When applying for D&O Insurance coverage, you will need to complete an application for coverage.
The application will ask for information about the company, its management and board of directors, and its financial history. The application will also ask for information about the company's business activities and the types of risks it faces.
Be prepared to answer the following categories of questions.
Nature of operations – Summarize what your organization does.
Members/Chapters – Do you have members or chapters in the case of an association.
Publications – Does the organization publish magazines, periodicals, newsletters, etc…
Products – Research, development, testing, or certification of products?
Financial Info – Total Assets, Net Assets, Annual Revenue, and Net Revenue.
Coverage gaps – Any gaps in D&O Liability insurance coverage
Litigations/Actions – Has the applicant or any persons been involved in specific litigation or adverse actions. Typically yes/no questions.
Mergers/Acquisitions – Has the applicant been involved in any mergers or acquisitions in the last 24 months?
Employees – Number and types of employees and volunteers. Full-time, part-time, and temporary.
Employment Actions – Voluntary and involuntary terminations, layoffs, and demotions.
Policies – Yes/No questions around employee handbooks, employment applications, "At Will" provisions, anti-sexual harassment policy, anti-discrimination policy, etc…
Retirement plans – Information about retirement plans,  benefit plans, and other fiduciary obligations.
Don't forget that your agent can help complete the application and answer questions are your gather the needed information.
3 Examples of D&O claims
Wrongful Termination
In this example, XYZ, a nonprofit corporation provides discounted health screening and testing in Texas. Most of XYZ's clients are low-income young families or retired, aging Americans on fixed incomes. The board of directors of XYZ voted to terminate the CEO after an embezzlement scandal comes to light. The CEO files a wrongful termination lawsuit against the organization, alleging that he was wrongfully dismissed.
The D&O insurance policy can help to cover the legal fees for defending the case. The policy also provides coverage to the Board Chair who is personally sued by the former CEO as well.
Discrimination
In this example, XYZ Corporation is a nonprofit organization that provides services to the community. The organization's Vice President, a 56-year-old man, is demoted and his salary is reduced after 18 months of poor performance and reviews. He alleges that he was discriminated against because of his age.
The D&O insurance policy can help to cover the costs of the legal fees defending this case by both the organization and the Executive Director who terminated the Vice President.
Breach of Contract
As another example, NPrUs is a nonprofit organization that provides services to the community. The organization enters into a contract with ABC Corporation to provide services for a certain amount of money. However, NPrUs is unable to meet its obligations under the contract, and ABC Corporation sues NPrUs for breach of contract.
The D&O insurance policy can help to cover the costs of NPrUs' legal fees only if such breaches are included in the specific policy coverages. Not all policies will cover this scenario, may only cover breach of employment contract situations. Check carefully with a qualified agent.
You can read more about the contract exclusion in this article by Kevin M. LaCroix.
Where can I purchase D&O insurance for my nonprofit Organization?
Npcrowd.com offers a marketplace for nonprofit service providers including insurance needs. Take a look. Personally, Hibbs Hallmark has been a blessing to organizations I've served with in Texas.
You can also find other nonprofit D&O insurance providers and marketplaces by searching online. Some tips for finding a qualified insurance carrier include checking for membership in relevant professional organizations, such as the National Association of Insurance Commissioners (NAIC) or the Better Business Bureau (BBB). It may also be helpful to read customer reviews and compare rates from multiple carriers.
There are many benefits to using an agent when purchasing nonprofit D&O insurance, including access to multiple insurance carriers, expert advice, and assistance with claims. Access to multiple carriers means that you can compare rates and coverage options, and find the best policy for your needs.
An agent's expert advice can help you understand your options and make the best decision for your nonprofit. And assistance with claims can help you get the compensation you deserve if your nonprofit is ever sued.
Additional Resources