Best Project Management Tools for Nonprofits
Disclaimer: This post may contain affiliate links. These links, if used and purchases made, we may earn a small commission. These affiliate programs do not impact the recommendations we make or the resources we refer you to. Our focus is on providing you the best resources for your nonprofit journey.
Finding the best project management tools for nonprofits is tough when there are so many tools available. Below, we give you our best picks and plenty of other options for you to review before taking the plunge. 
Quora user Camilla Meem provided an excellent answer to a similar question. Compare our opinions and see what fits your needs the best.
The best project management tools for nonprofits are Trello (best free tool), ClickUp (most versatile), Monday.com (easiest to use), and Asana (best for task management). These tools range from $0 to $300 per year, per user, each with varying nonprofit discounts available for qualifying organizations.
Read below to understand why.
Trello – Best Free Project Management Tool For Nonprofits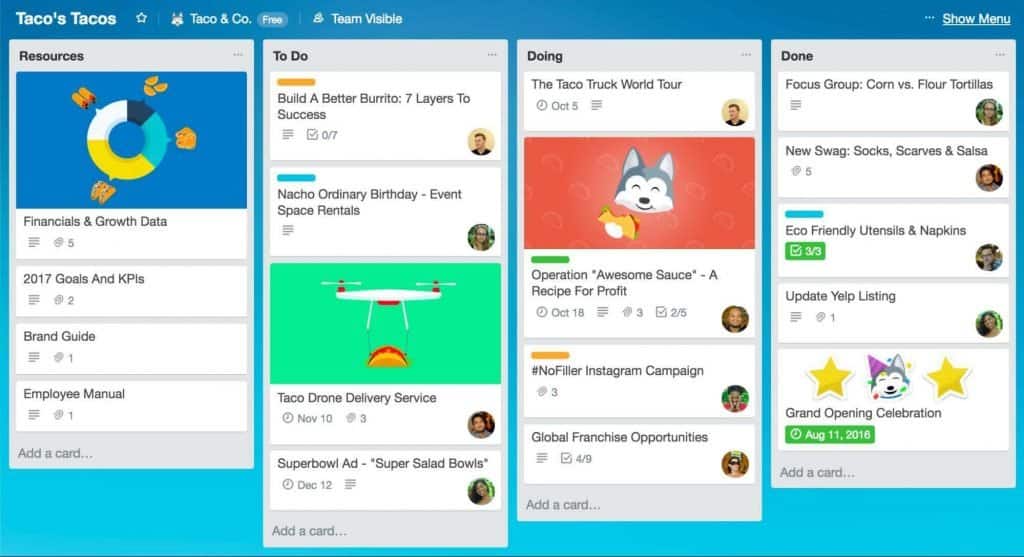 Trello is a long-standing pillar in the project management space, gaining significant traction with Agile/Scrum methodologies' popularity.
The free plan for Trello is tough to beat. You get all the product's base features on the free forever plan, limited to 10 boards. That should be more than enough to get you started if you are creative with using each board. 
The only time to upgrade to Trello Gold is when you need more boards or advanced features, including Power-Ups, automation, large file attachments, and saved searches. 
Power-Ups are add-ons that build additional functionality into your Trello Boards, Lists, and Cards. Some of the Power-Ups are integrations with other platforms.
If you like the card stack visual (Kanban board), moving cards (tasks) from stack to stack as they move through your process to completion, Trello is your ticket.
Hey, if you want to learn about Trello without us earning some free power-ups, here's a straight, non-referral link to Trello. 
Pros
Free plan usability is stellar. You may never need to upgrade to a paid plan.
Invite collaborators on a board by board basis to work on your project with you.
The visual paradigm of cards and stacks is familiar and reduces learning time.
Cons
There is no specific ability to assign accountability of a task to a single human being. Things get confusing when you add other team members to the card to see notifications, but who are not responsible for getting the work done.
There is no time tracking functionality. HINT: Power-ups might be your answer.
No summary view. For a project manager, there is nowhere to see a summary of what is on-track vs. off-track. If you need that 10,000-foot view, you won't find it here.
No subtask functionality. This is not a problem for agile methodologies but could be for someone else managing a project that needs this functionality level. Try splitting cards needing subtasks into two or more cards. 
External collaboration permissions are set at the Board level, not the card. Do you want to share the entire board with a contractor?
Trello Nonprofit Discount
Trello offers both nonprofit and educational institution discounts. For nonprofits who qualify, there is a 75% discount. 
ClickUp – Most Versatile Project Management Tool For Nonprofits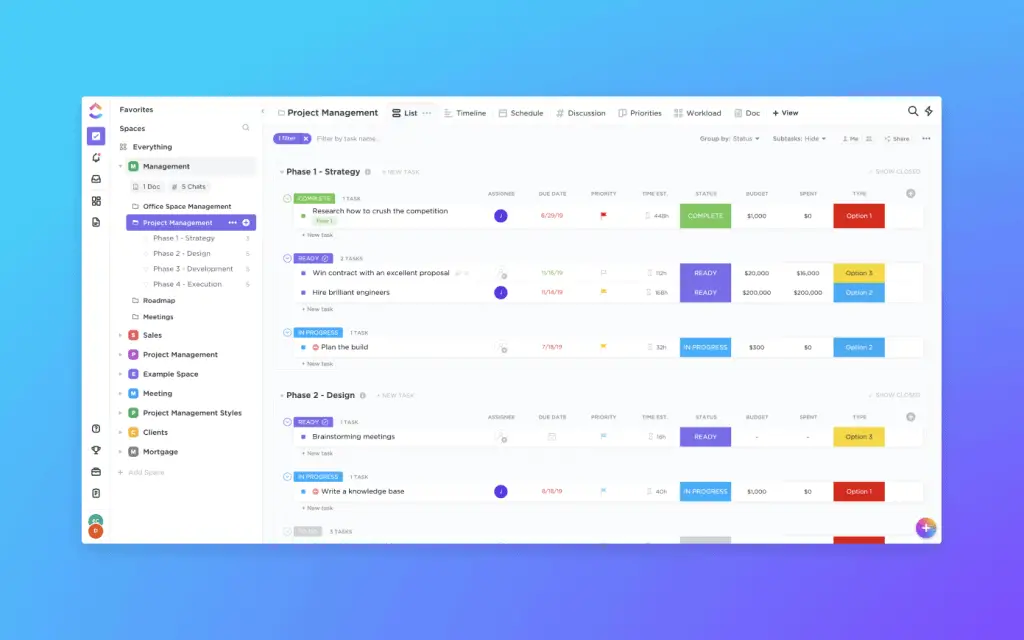 Talking about versatility, ClickUp is a crazy swiss-army knife of getting things done. They actually guarantee you will "Save one day every week."
Yes, ClickUp is an online task and project management tool. It can also be many other things. People are using it to do new employee onboarding and offboarding. Others are using it as a lightweight CRM. Still, others have found a way to manage their content creation and social media publication processes. 
ClickUp starts with the concept of a space as the highest level container. Within a space, you have Lists. Lists have tasks. Finally, lists can be grouped into folders. The hierarchy takes some time to get your head around but allows for
When you sign up for a free forever ClickUp account, the onboarding wizard is an incredible experience. You'll be up and running in your first "space" in no time and can grow to a total of 5 spaces before needing to upgrade.
Chrome users can get the ClickUp extension and have webpages, screenshots, and emails directly into ClickUp tasks. That is a real timesaver.
If you want to learn more about the potential uses of ClickUp, check out the On-Demand Demo.
Pros
Assigning tasks to one or more team members is separate from team members watching a task for notifications and updates. This allows precise accountability management at all levels.
Assigned Comments – using the tool to chat and communicate as an activity on a task may bring out the need to get something else done. Instead of creating more tasks, you could assign a comment to someone to get done, and it is tracked similarly to a task. Genious!
Custom fields – Custom fields can be created at varying levels of the hierarchy. These custom fields are the real power for solving so many process issues with a single tool.
View – Out of the box, ClickUp allows users to view tasks in the manner that suits them best. Take a list of tasks and view them as a list or a board like Trello. How about a calendar view, or a box chart, Gantt chart, timeline, or by workload? You've got to see this.
Pricing – For all you get, pricing is excellent. When paid annually, the cost for the unlimited plan is $5/user per month. Heck, that's before the nonprofit discount.
Integrations – Even on the free plan, you get 50+ native integrations to services like Slack, Google Hangouts, Microsoft Teams, Toggl, Harvest, Timely, Google Drive, OneDrive, Sharepoint, Dropbox, and more.
Cons
Too Many Options? – ClickUp has so many features. As a result, it can feel overwhelming to learn for some. You can disable unneeded features to help simplify things. The key is to establish a process, then train others.
Free plan limits – The free plan will work well for most nonprofits. There are limits to certain features without an upgrade. For example, the free plan allows for 100 custom field uses, 10 milestone uses, and 10 automation per month. Solution: if you are using the tool that much, it may be worth investing in that upgrade.
ClickUp Nonprofit Discount
ClickUp does offer a discount to nonprofits and educational institutions. Typically this discount is about 35%. Talk to them and see what you can work out.
Monday.com – Easiest To Use Project Management Tool for Nonprofits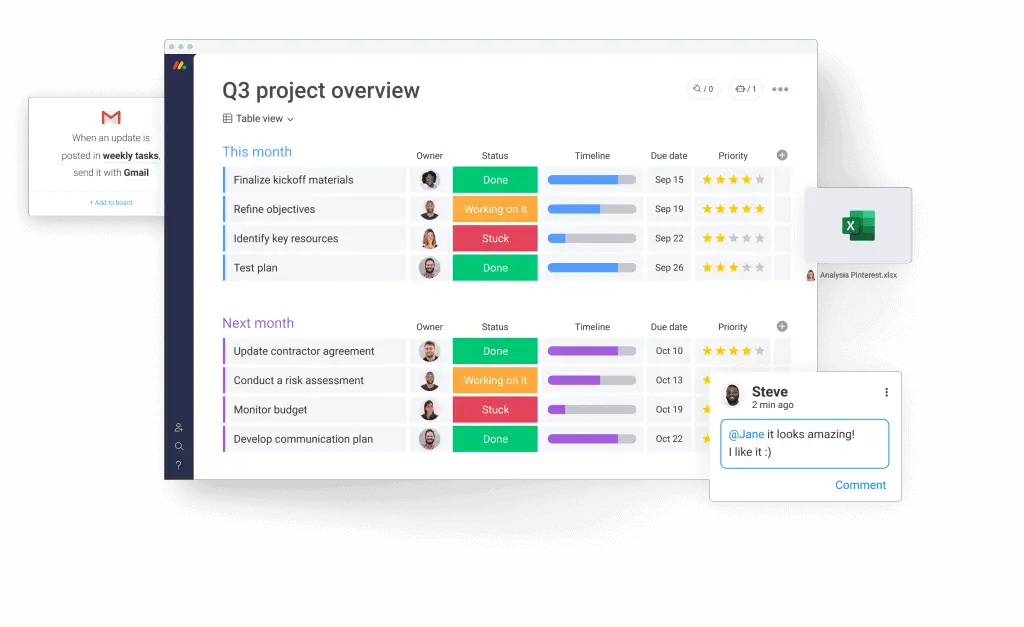 Let's start by saying Monday.com does not offer a free plan.  
So, why is Monday.com on our list?
Monday.com will probably be the easiest tool for your organization's staff to use. It's just intuitive.
It is a visual paradigm for working from the ground up. Everything you do in Monday.com tells a visual story of status, progress, completion, ownership, etc.
In a similar hierarchy to ClickUp, you have workspaces that contain folders. Folders contain boards that contain tasks.
One time-saving feature is that most fields, like a status field, can be updated with two clicks right from the list view. No need to click on the task to edit on a detail page and then save. Nice!
You have a choice to see task lists in a List, Kanban, or Chart view.
If you have no budget for a project management tool for your nonprofit and do not qualify for a discount, skip this tool.
Pros
Visuals – Very intentional visual representations that tell the story of a task at a glance.
Fast task updates – inlined task updating speeds up task management.
Customization – Custom fields, labeling, and special field types allow for use beyond project management. 
Automation – Automate repetitive tasks.
Built-in time tracking.
Cons
Cost – Monday.com is expensive in comparison with other full-featured competitors.
Comments cannot be assigned to team members.
Task dependencies are a work-around to achieve and not very useful.
Monday.com Nonprofit Discount
Monday.com does provide an unspecified discount for qualifying nonprofits, up to free. You have to apply to find out. 
Asana – Best Task Management Tool for Nonprofits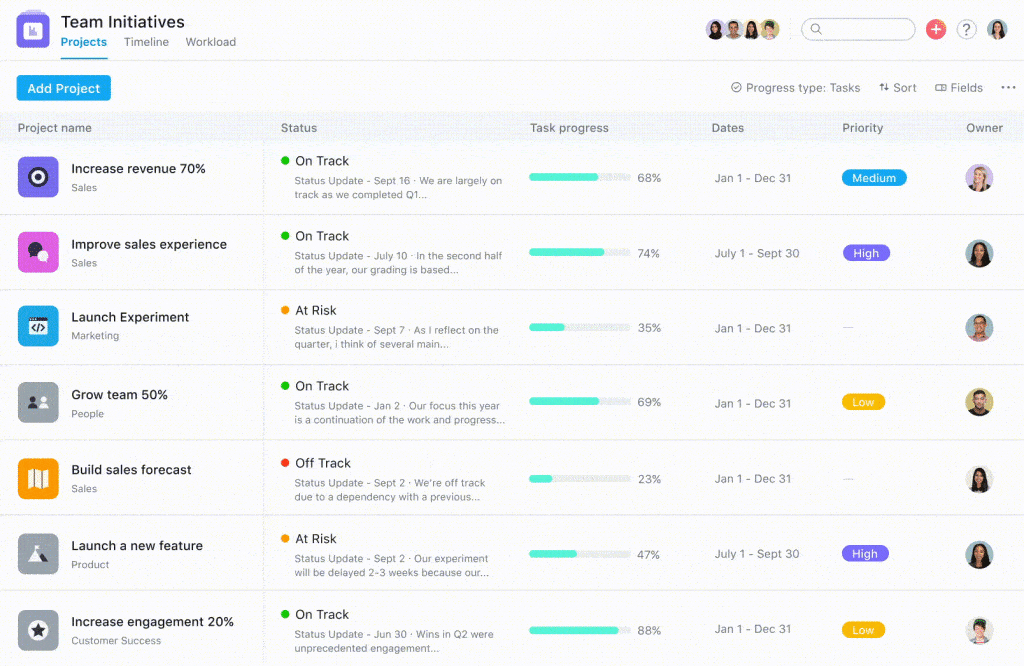 Asana has been a staple for task and project management for years. Now, with an updated appearance, Asana is a piece of cake to start and for your team members to use. 
Asana comes from a place of doing task management and to-do lists very well. For project management, group tasks into projects.
The user interface feels sparse compared to some of our other tools, but that helps it be easy to use. There is less clutter when you're trying to bang out tasks.
On the free plan, you'll get the basics but nothing more. 
FYI, the Asana Business plan does offer integration with Salesforce.
Pros
4 Nonprofit use case learning paths for volunteer onboarding, monitoring fundraising goals, executing fundraising goals, and nonprofit case management. They get us!
Learning and online support options are plentiful. From the Asana Academy to written guides and bit-sized how-to videos, you'll be your organization's Asana expert in a single day.
Cons
Paid plans are higher than the other tools on our list. Premium plans are $10.00/user per month, paid annually. Business plans are $24.99/user per month. This is retail pricing before any discounts.
Single user assignment – Tasks can be assigned to one and only one user at a time. In most project management for nonprofits, it is better only to assign tasks to a single person. But, if you need multiple users assigned to single tasks, look elsewhere.
Minimal – The user interface is maybe not as flashy as other tools. That could be a good thing unless it negatively impacts the adoption of Asana within your team. 
Asana Nonprofit Discount
Asana does offer a discount to nonprofits. Qualifying organizations will receive a 50% discount on Asana Premium or Asana Business. 
Other options to consider
Don't forget to see our updated list of discounts for nonprofits including project management tools for nonprofits.
Hey, wait a minute what about tool X? Great, tell us your thoughts. The reason your favorite tool isn't on the list is one of three reasons.
We don't have hands-on experience with it. See, we are not giving you recommendations based on commissions or advertising. These are truly our picks based on shared wisdom using these tools in a nonprofit setting.
We used your favorite tool but found it to be so far from what we think most organizations need, or so overpriced that we simply did not want to send our NPCrowd members down that path.
We didn't know about your favorite tool. Tell us and we may find an opportunity to try it out.
What is your favorite project management tool? Drop a comment below.