Ultimate Guide to Nonprofit Software Discounts
When you sign up for a new service or buy a product, you should always ask about a nonprofit discount. Many companies are happy to discount their prices for qualifying nonprofits.
Yes, this includes a nonprofit discount for software and services.
Disclaimer: This post may contain affiliate links. These links, if used and purchases made, we may earn a small commission. We use these funds to help support NPCrowd.
We compiled this useful list of useful nonprofit discounts you will want to review before your next purchase. 80 discounts and counting…
Disclosure: Some links are affiliate links. If you use them and make a purchase, we may earn a small bit of revenue, making this site possible. We do NOT make recommendations for products or services based on the affiliate nature. Honestly, we recommend products we enjoy using, and if they offer an affiliate program, so be it. If not, we'll still recommend them.
Our Picks, Top 5 Best Nonprofit Discounts
We've review all the best nonprofit discounts in our list.
#1 – Microsoft Office 365 OR Google Workplace
Discount: FREE
No fanboys or fangirls here. The bottom line is that you need email, online document storage, file sharing, document collaboration and instant messaging or video conferencing.
Whether you choose Microsoft Office 365 or Google Workplace as the key infrastructure for communication, you can't go wrong with free for these equally great services.
Plus, don't forget you get Google Hangouts or Microsoft Teams to use for video conferencing. No 3rd party tools required at an additional fee.
There is one case that we recommend Microsoft Office 365 over Google Workplace. If you need to centrally manage a number of Windows devices and have other Windows environment infrastructure, there are advantages to the higher-end Office 365 plans including Active Directory.
#2 – ClickUp – One app to rule them all
Discount: Varies – 35% – Talk to them
We made ClickUp our number 2 pick because, well, it's just awesome. Like you and your team, ClickUp wears a lot of hats. What may look like a complicated task and project management tool is actually so much more.
One of our members using ClickUp since 2018 is paying $3.25/user per month for the Ultimate plan when invoicing annually. That's a 35% discount. What's cool is they are open to working with organizations, within reason. Thanks to them.
#3 – Zoom for the win
Discount: 50% off
If you've not been hiding under a rock, video conferencing has become a needed commodity. Zoom, despite early security concerns, is dominating the pandemic video conferencing from the home need.
It's a good thing Zoom loves nonprofits and offers a whopping 50% discount. This Zoom nonprofit discount applies to the Pro and Business plans. The licenses are offered through TechSoup, so be sure to check out the details.
#4 – LinkedIn for nonprofits
Discount: Up to 50% off
At some point, you need to fill open positions or recruit for new positions. Word of mouth will get you just so far. Indeed ads flood your inbox with candidates that may not be at all aligned to the values of your organization.
Take advantage of the professional career network LinkedIn's nonprofit discount. You will be able to place high-quality job ads with more intentional candidate applications. Heck, you even get to use their talent discovery tools to find candidates you want to invite for a conversation.
#5 – Canva makes it too easy
Discount: FREE
You don't have to be a graphic designer to look good. Canva makes it easy to create properly sized social media images, ads and videos. Need to create a print piece and on a tight budget? Take a look at Canva.
If you qualify, Canva Pro is available at the nonprofit price of free! I mean, they love supporting nonprofits in this way.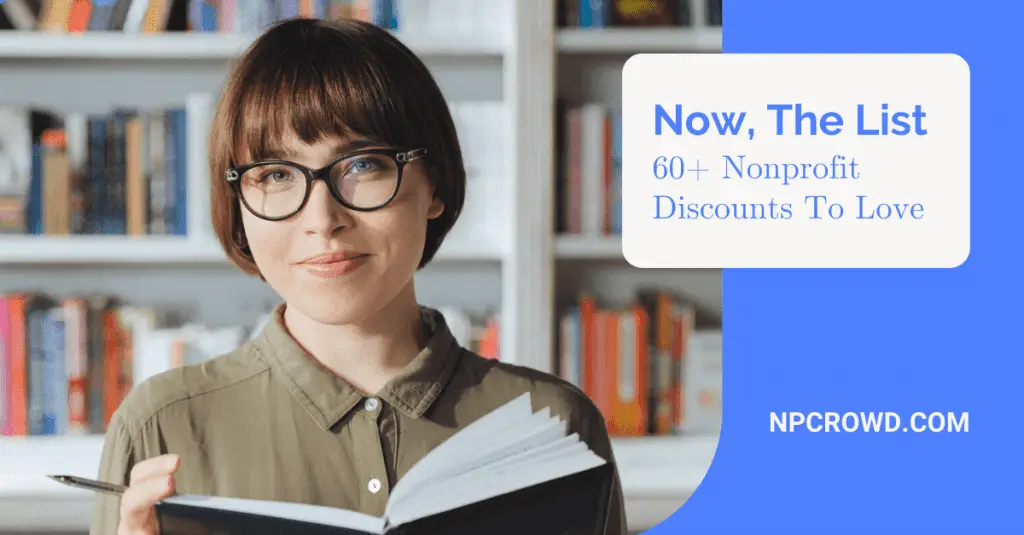 CRM, Case Management and HelpDesk
Collaboration, File Storage, And Productivity Suites
Project and Task Management
Writing and Note Taking
Communication and Conferencing
While you're looking, there are additional options for tools to help when working remotely.
Automation, AI, and Integration
Freeing up more hours in your day sounds awesome. These automation tools can help. Don't forget to check out some ideas about how to use these automation tools.
HR, Recruiting, and Applicant Tracking
Accounting, Financial, and Donation Platforms
Surveys and Forms
Advertising and Marketing

Social Media Tools
Graphics, Photo, and Video
Analytics, Tracking, and SEO
Legal, Risk, and Compliance
Nonprofit discounts for Geeks