Best Conga Courier Replacement For Report Scheduling & Distribution
Disclaimer: This post may contain affiliate links. These links, if used and purchases made, we may earn a small commission. These affiliate programs do not impact the recommendations we make or the resources we refer you to. Our focus is on providing you the best resources for your nonprofit journey.
I've been in the world of technology and nonprofits for over 20 years and can say with certainty that software products will come and go. No company can maintain its products forever. Some are better than others at product life transitions.
If you are a Conga Courier customer in your Salesforce instances, then you recognize that Conga has stopped selling the tool and has announced its end of life for June 2022.
For many customers who are scrambling to find a replacement solution, the options are limited.
In this article, we'll explain the product that we are using to replace Conga Courier and enjoy cost savings over Conga's proposed shift to Conga Composer.
You might be surprised.
Will Conga Composer Replace Conga Courier?
According to the Conga sales team members that we talked to, Conga Composer with the Batch Add-On is the replacement for Conga Courier.
Yes, with the Conga Composer Batch add-on you can create a Global Merge that will do the basics of a Conga Courier report schedule. This will get your reports out the door and into email inboxes.
Conga does have a support document that describes the steps needed to transition from Conga Courier to Conga Composer with Batch.
You can certainly give it a go, but if you are an accidental Salesforce Administrator, then this may feel above your pay grade and is certainly not for the faint of heart.
We inquired of Conga to see if they would offer assistance, or even help for a fee, to do the heavy lifting of migrating a basic Conga Courier configuration of 18 report schedules to Composer plus Batch.
Unfortunately, the answer was not just a "No", but turned into a relationship-killing experience.
The salespersons only offered to either send us to someone else for a demo, which we had already done, or kept asking when we were going to sign the new agreement for Conga Composer.
No assistance or help was offered and questions were dismissed.
Honestly, my experience with Conga sales has never been really good. But now, the issues are even more pronounced. It feels like they just want your money rather than help make sure you are a satisfied customer.
Why You Should Not Move To Conga Composer
The sole purpose of Conga Courier is to manage the scheduling, distribution, and logging of Salesforce Reports to contact email addresses. It is essentially a special report scheduling tool for native Salesforce reports.
Now, Conga's strategy is to have you purchase a tool that is made for custom document creation, merging, and fancy distribution just so you can use the Batch add-on to send scheduled reports. Hmmmmm……
As of the writing of this article, that functionality comes with a minimum annual starting cost of $2400 per year. That's just the base tool.
Secondly, I'm not a fan of using a tool solely to take advantage of a secondary piece of functionality. i.e. Not its primary intended purposes.
There is one case that makes sense to move to Conga Composer. If you can take excellent advantage of the primary purposes of Conga Composer, then it may make great sense to move to it and then also use the Batch add-on as your report scheduler.
That is the only use case that seems to make sense and justify the expense of Conga Composer as a replacement for Conga Courier.
If you only need the report scheduling and distribution, read on.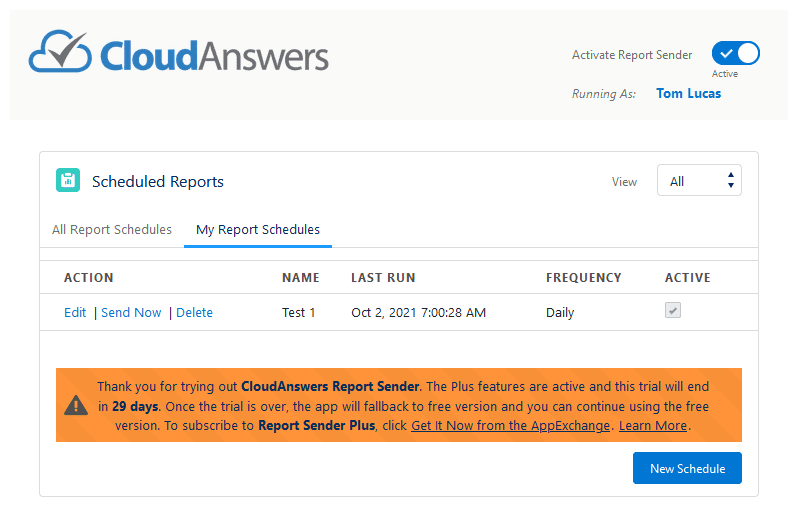 A True Conga Courier Replacement
When this issue was first brought up to us, we looked at several solutions. Now, we want to share our top pick with you and save you the headache.
The tool we landed one for a one-to-one replacement of Conga Courier is Report Sender Plus.
Of course, Report Sender Plus is available in the App Exchange. There are listings for both Report Sender (free) and Report Sender Plus (licensed).
While it does not offer all of the bells and whistles that Conga Courier does, it hits all the needed functionality well.
Let's summarize the Pros along with the Cons of Report Sender Plus when compared to Conga Courier:
Pros
Cost is less than the Conga solution. Minimum of $1400/year savings
Reports can be sent to any valid email address
Reports can be scheduled daily, weekly, monthly, or yearly
Reports can be scheduled for the Nth day of the week each month or year
Reports can be sent in CSV, Detailed XLS, Formatted XLS (Plus version only)
32,000 character email body limit (Plus version only)
Option to skip sending report if the report contains no results (rows)
Cons
No tokenization support in the email body
Recipients are hand typed email addresses, not contact record addresses. (human error prone)
App privileges required are extensive, but not terribly uncommon. (security question)
No execution/send logging.
Note, you can change who the owner of a Report Schedules is, and therefore who the report comes from, by enabling the custom object tab in Salesforce. Don't know how? We've got you covered.
Are There Cost Savings For A Nonprofit?
Yes, CloudAnswers does provide a discount to nonprofits for the Report Sender Plus tool. Just reach out to them via telephone or email and they will walk you through the process.
Even without the nonprofit discount, Report Sender Plus is a minimum of $1400 per year less than the equivalent Conga Composer solution.
This is the classic situation where there is no need to pay for features you don't need.
Summary
Conga Composer is not the proper replacement for Salesforce report scheduling and distribution unless you need the other Composer functionality. Instead, Report Sender Plus is your ticket to scheduled email distribution of Salesforce reports to any email address regardless if they are Salesforce users or not.