Little Green Light Nonprofit CRM: First Take Review – 2022
Disclaimer: This post may contain affiliate links. These links, if used and purchases made, we may earn a small commission. These affiliate programs do not impact the recommendations we make or the resources we refer you to. Our focus is on providing you the best resources for your nonprofit journey.
Nonprofit CRMs are a necessity but which one to get is a big question. Or maybe you are looking to move to a new CRM. How does Little Green Light donor management software stack up?
We've taken it for a spin before you decide to do the same. Here's what we learned.
Is Little Green Light A Good CRM For Nonprofits
Little Green Light (LGL) is a good CRM option for small to medium-sized nonprofits. The low cost of entry, easily forecasted expenses, easy administration, and good documentation mean it is a powerful tool without all the unnecessary complexities of other solutions.
If you are hoping to also manage your programs in your CRM, LGL may not be the solution for you.
Our dislikes are far overshadowed by the things we like about LGL. On the downside, users cannot efficiently use Little Green Light on their mobile phones given there is no Mobile App and the web interface is not really mobile-friendly.
Another dislike is that the visual aesthetic is very 2015 and utilitarian. This may be a turnoff for some users and organizations. However, I'd suggest you look below the surface and compare the functions to see how it meets your needs.
Tracking Constituents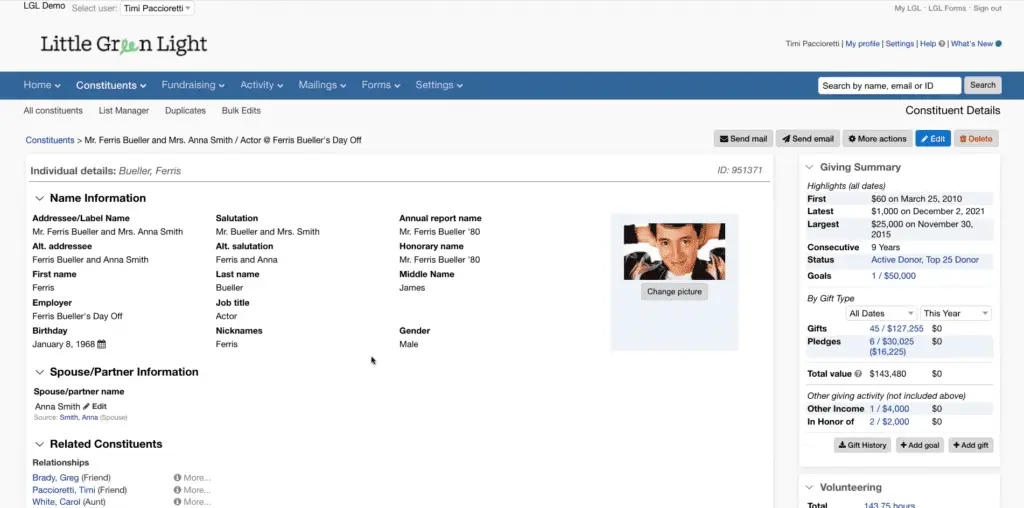 Constituents are the people you will track in Little Green Light. LGL does the basics, and a bit more, very well.
Typical constituent record data is well taken care of including names, salutations, addressee/label preferences, birthdays, and the like. There is also the opportunity for specific annual report names and honorary names. Cool!
Spouses and partners can also be tracked. Up front, you can decide whether to track spouses and partners as a single household unit or separately using the relationship options.
Constituent records can be individuals or organizations/corporations. So you can track those corporate in-kind gifts accurately without messing with the business owner's personal giving. This is certainly helpful.
Activity Tracking
Activity tracking is a key component of any donor management system (CRM). LGL does not disappoint.
On every constituent record, you can see, log, and plan every interaction with them. Activities include:
Contact reports
Notes
Tasks
Gifts
Goals (think opportunities/moves management)
Mailings (print or email)
Documents
Volunteering
Appeal requests
Event invitations
Tasks are your To-Do's and can be created on constituent records or they can be standalone tasks. Tasks can have documents attached and a running dialogue of comments.
Tasks remain open until marked as completed or deleted. I do like that you can assign which roles can access the task and who will receive notifications, on a task-by-task basis.
There is also the ability to add tasks to constituent records in bulk. This could be useful for follow-ups from an event.
LGL can send reminders about tasks that are due today, or that will be coming due in the next two weeks. You select whether or not reminders will be sent using a checkbox when creating the task.
LEARN MORE: Want to become a good CRM Administrator, check out our article on the topic and get started today.
A contact report is the logging of meaningful interaction with a constituent. For instance, connecting with a constituent while watching your kids play a sport together or having lunch with them as a touchpoint would be Contact Reports. It could also be a phone call, a text message, or an email.
Contact reports can have follow-up tasks added to them as well.
There is a consistent color key used for related activities which I really like. Consistency means that users will learn and quickly identify visually the activities that need attention.
Green: Gifts
Light green: Pledges, installments, and goals
Dark green: Contact reports
Blue: Tasks (unless the task is overdue, in which case it is dark red)
Light blue: Comments
Dark blue: Mailings/emails
Maroon: Notes
Dark red: Overdue tasks
Yellow: Documents
Donor Segmentation (Constituents)
Segmenting your constituent data is another key process in growing your fundraising, advocacy, volunteering, and ultimately your social impact. It is certainly critical to moves management of donors.
LGL permits not just one segmentation field, but any number of custom-created segmentation. This is accomplished through the use of what LGL calls "categories".

Directly in LGL, you can create different types of categories, which are essentially custom fields, with custom values. Any combination of these categories can be used for searches, reports, and actions. Combine categories with saved searches and you are a powerhouse of productivity.
Speaking of searches, let's look at them a bit.
Searches – The Key To Everything
Searches in LGL are used to find records, identify grouping of gifts or constituents to send correspondence to, or create ad-hoc and scheduled reports. Learn how to do advanced searches and you will get the biggest boost in your productivity and growth.
There is a simple search that allows you to search by name, email address, or ID, but the advanced search is where the real power is. Think of advanced search as a set of filters that allow you to see precisely what you want at any time. They are your new superpower!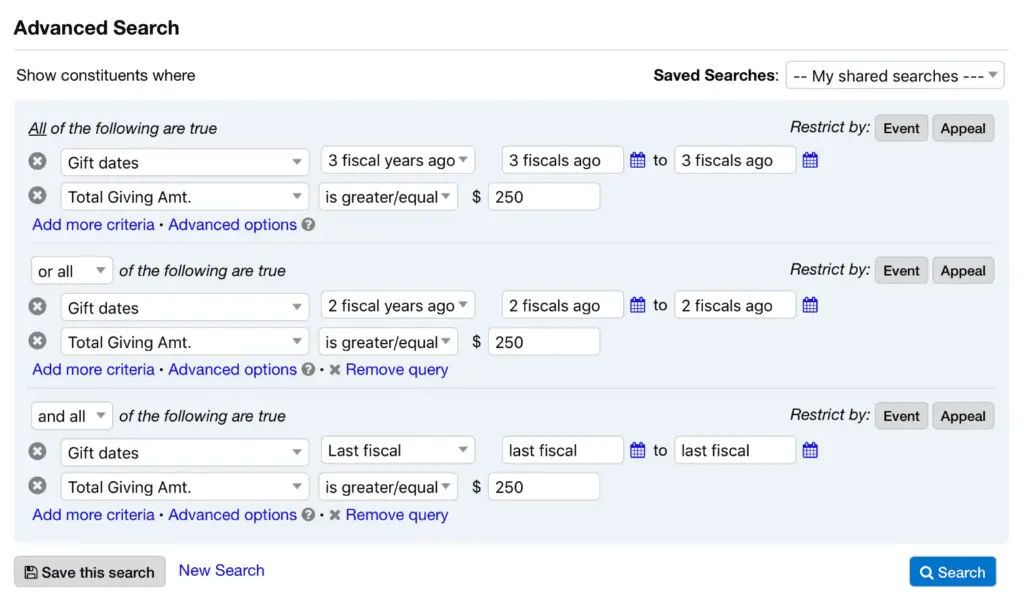 As you can see in the screenshot above, you can create multi-layered rules for the search that includes the ability to require all to only some to be true to return results. This is the AND/OR logic that allows for "this, or that" type filtering to cover a variety of needs.
LGL gets bonus points for allowing you to save searches. This is super helpful when you will need to repeatedly pull data using the same set of filtering on a regular basis. Just save your search and come back to it any time you want in just a couple of clicks.
It would be nice if the saved searches could be better categorized as I could see the list getting really long. So for now, I suggest coming up with a naming convention for saved searches that makes it easy to find them in the future.
By default, saved searches are private to your user account. But you can choose to share them with others either globally in your organization's account (everyone) or to users in specific roles. That's a needed feature and LGL thought of it.
Tracking Gifts, Pledges & More
You have the ability to track donations in Little Green Light but also soft credits, pledges, and more.
Gifts can be associated with:
Funds
Campaigns
Appeals
Events
LGL also allows nonprofits to track "Other" income that is received but is not necessarily tax-deductible. These are things like tickets, merchandise, membership dues, and the like. These categories can be configured to not show in the annual giving statement or acknowledgments.
Pledges
Pledges are fully supported in Little Green Light. Not only can you track a pledge, LGL supports installment tracking on pledges.
Gift (Donation) Entry
Entering gifts can be accomplished in five ways:
Manual gift entry
Bulk Gift Entry
Gift Import
LGL Forms
Integrations
Typically, most customers will use the manual and bulk gift entry features when initially starting. Bulk gift entry is a pro for LGL as not all systems have this feature.
Split Gifts
A split gift is when a donor, for example, sends a check that needs to be applied to more than a single fund restriction, or purpose. For example, say a donor sends a $1,000 check from which they indicate that $250 is to go to program A and $750 goes to the Golf Tournament. You'll need to account for both.
LGL indicates it can handle split gifts. They do this by asking you to create multiple gift entries. Unfortunately, there is not much tying these gifts to the same payment. That's not horrible, but could get confusing, especially when trying to reconcile deposits to gifts when there is a different error.
You can enter a check number into each split gift record which can help with research after the fact. LGL does allow you to attach a special split gift acknowledgment template to these gifts so that when acknowledgments are run and sent, it will properly display them.
Gift Acknowledgments
Now that gifts are entered, it's time for the acknowledgment process. This is where LGL makes it super easy compared to other tools.
LGL enforces the fact that as nonprofits, we are only permitted to issue a single receipt for each donation. This enforcement is done by only allowing a single acknowledgment template to be assigned to a gift. ie. you can send an email and a printed acknowledgment.
But the fact that you can use different acknowledgment templates for different gifts is a nice addition. Maybe you want one for events vs. online gifts vs. a major donor gift. Templates are assigned at the gift level and should be selected as part of your gift entry process.
What I love is that the built-in acknowledgment process handles the mail merge for you. No more exporting to another program, like MS Word, to mail merge your letters. Doing these in batches is wonderful. Once done, just mark your batch as "Sent" and the system is updated.
And yes, those acknowledgment templates can be made for print or for email directly from LGL.
Annual Giving Statements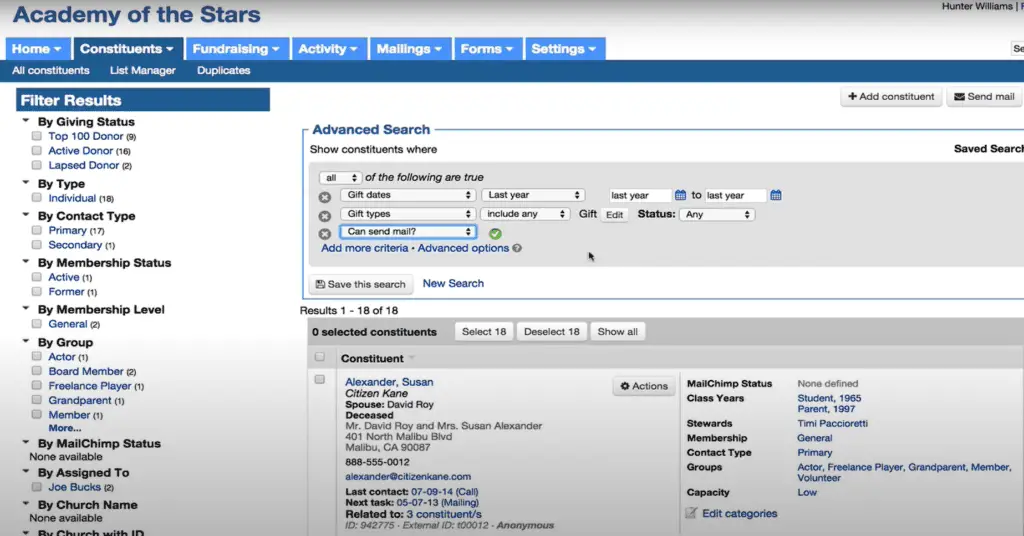 Something many nonprofits fight to do in Salesforce is Annual giving statements. LGL makes the process a snap. The process looks like this:
Write your letter template
Create your search
Create the mailing
Upload your Word template or LGL letter
Preview your letter
Set label/envelope preferences
Download and print your mailing
Mark mailing as "Sent"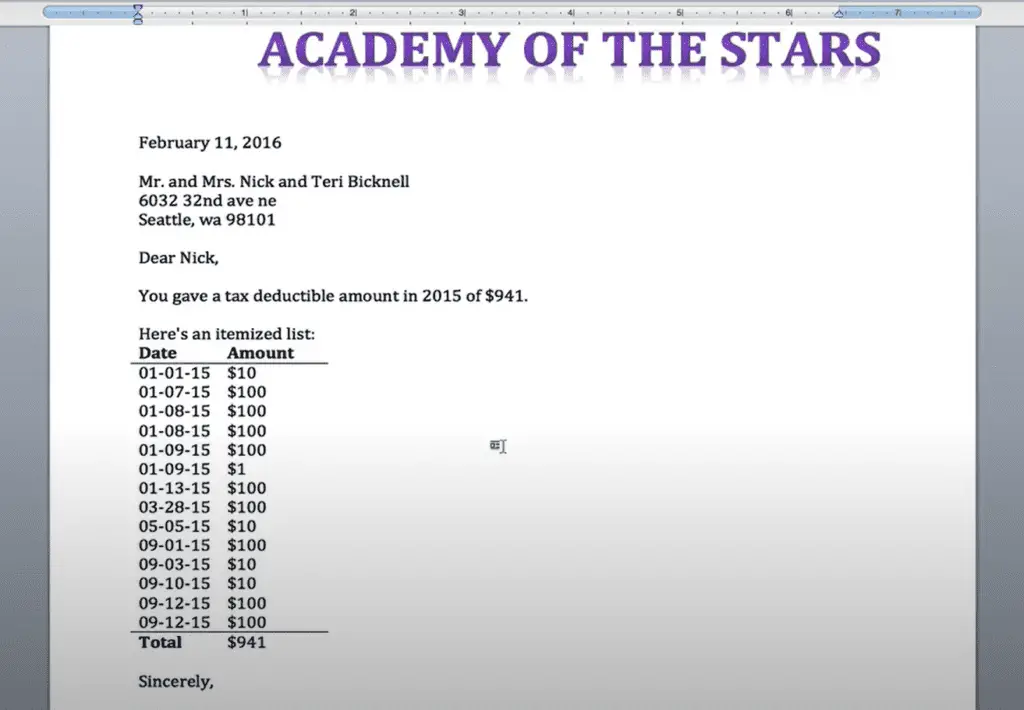 Integrations
Little Green Light is not a closed system. In fact, one way that it can increase productivity in your nonprofit is through integrations.
Oddly, there is not a complete list of those integrations we could find online. So, we made one for you based on our findings.
Integration
Description
MailChimp
Limited to a single Mailchimp audience
Preferred email address only
Nightly sync from Mailchimp to LGL
Supports Bulk Unsubscribe
Can use LGL forms to opt-in
Constant Contact
Manage email contact lists within LGL
Only works with lists created and managed within LGL
Only invalid emails and unsubscribed status are synced from CC to LGL
All other syncs are from LGL to CC
Does NOT sync recognition of "Do Not Email" to CC. Manually remove these subscribers in CC
Landscape
Land trusts may use this tool (Land conservation)
Quickbooks Online
QBO Plus or Advanced edition required
Sync gifts from LGL to QBO in batch
Limited to Gift or Other Income gift types
SmartySheets
Only for address verification/standardization
Wufoo
Wufoo form submissions to LGL
Allows LGL save/reject management of submissions
DonorSearch
Two types of integration
1. Authenticated linking (DonorSearch button in LGL)
2. Screening (offline then import)
WealthEngine
Authenticated linking (WealthEngine button in LGL)
Fundraising Report Card
MarketSmart's Fundraising Report Card
Sends gift data for analysis
Stripe
For payment processing of LGL online forms.
PayPal
For payment processing of LGL online forms.
Permanent Links
Export report data to a file on a regular schedule
Once created, a permanent URL to the file
Updates the file on each update
Webhooks
LGL has a webhook listener
You will need a developer to help
Zapier
Import Gift or Constituent data to LGL
One-way actions. No triggers
Cannot import Pledges, Goals, Related Gifts, Education info, or Relationships
API
Developer REST API
Currently in Beta
Limited to 300 calls per 5-minute period
Little Green Light integrations
Reality Check on Zapier Integration
We did some deep diving on this one hoping that Zapier would open some integration doors. Truth be told, it was a little disappointing.
Yes, you can use other Zapier Trigger points to import constituent or gift data into Little Green Light. This could be super helpful when you are using another online giving platform that is Zapier supported. Having this setup could save hours of manual keying of donations.
Unfortunately, the same cannot be said when going from LGL to another platform in Zapier. Currently, we found no triggers available in Zapier for LGL. This means there is no means of performing actions in another system based upon an event in Little Green Light.
That is kind of disappointing given the time was taken to build the Zapier components.
However, a workaround is to use the scheduled reports feature to save data in a permanent file that is updated on a regular basis. Then you could create a zap to read that data and perform actions to 3rd party systems.
As the saying goes, Buyer Beware, if you were hoping for more functionality from the LGL/Zapier integration. Then again, if Zapier is not key to your solution, look at the other features before making a decision.
Reporting
All CRM's are only as good as your ability to review, analyze, and act on the data that is input. This means that reporting functionality is a high-priority item to review.
Reporting in LGL begins by determining if you are wanting to see details about a constituent, the "who", or fundraising, the "gift". The starting point chosen speaks to which area your report can provide details about.
This is similar to Salesforce where you decide which object you are creating a report about. Then you can find data that relates to that object to report on as needed.
Reports come in a few flavors, XLSX, CSV, and PDF. The XLSX and CSV reports are known as "export" reports. Not all reports are available in both types.
Standard Reports
LGL comes with a number of standard reports are your disposal. These reports are referred to as "pre-built reports".
Custom Reports
As you would imagine, LGL allows you to create custom reports. You can even create custom report templates that help you customize the output of reports.
The custom report process is perhaps a little less intuitive than some other WYSIWYG report-building tools, but once you understand how it works, you will be reporting custom reports without much bother.
One example from the LGL knowledgebase that I followed along with is creating a custom report to find all donors who gave more than $5,000 last fiscal year in order to properly report your Form 990.
Step 1 – Start by creating the advanced search to pull the list of donors matching the criteria.

Step 2 – Click Export results which will bring you to the Customize tab.
Step 3 – Select the fields you would like on the report. I selected the name, preferred address, and total giving amount (last fiscal year) fields.
Step 4 – Set the Gift Types field to Include only the Gift type and set the Date range to Last fiscal. Using this built-in date range allows this report to run for the last fiscal year no matter what year it is run in.
Step 5 – Preview and then Save Export.
From here you can re-run this export any time you want or even schedule it to be delivered via email on a date of your choosing.
Migrating Data
Migrating data is something to think about on both moving to a new system, but also planning to exit a system. I always recommend asking CRM vendors to describe and show how to import your data, but also how to get all of your data out of their system. Too many nonprofits get locked into systems that feel like they hold your data hostage or require additional fees to get it.
But, not Little Green Light. There is a big appreciation for LGL's bulk export option to get all of your data out of Little Green Light without additional fees or hassle.
The Comprehensive Export option in LGL produces a Zip file that contains a number of CSV files containing your data. This is an on-demand feature and cannot be scheduled. If you decided to migrate to a new system, the right technical resource could make sense of these files to move your data to a new platform.
Another area that LGL shines in is its import tool, Flex Importer. Rather than a specific template with row headers and orders, LGL allows you to import CSV files and then map that data to LGL objects and fields.
The 3-Step import process walks you through it.
Import your file
Map fields and preview
Review and commit
Bonus points go to LGL because once you create a mapping, you can save it as a template. Doing so saves the mappings from a specific CSV file to fields in your LGL database. This is great if you need to regularly import data from another system into LGL, for example, gifts from another system.
I give high marks to LGL for data portability.
Pricing
Little Green Light pricing is based on the number of constituents tracked. The base cost is $45/mo ($540/year) for up to 2,500 constituents. Prices grow by $15/month for each tier up to 50,000 constituents which is $135/month ($1,620/year). The price increases by $15/month ($180/year) for every 10K constituents over 50,000.
We like the simple pricing model. Little Green Light is one price, for all features, based on the number of constituents you are tracking on a per-month basis.
There are no add-ons or higher plans with additional features. Just a single set fee.
You can prepay for 12 months and get a 10% discount off your monthly price. Discounts also apply to prepayments of 3 months (2.5%) and 6 months (5%).
This is a preferred pricing model in our opinion as it helps nonprofits not make poor security decisions in order to save dollars. Too many nonprofits share logins to their tools to save on per-user licensing programs.
Here, each user can their own accounts which provides increased accountability for actions, and inaction.
| Number of Constituents | Monthly Price |
| --- | --- |
| 0 – 2,500 | $45 |
| 2,501 – 5,000 | $60 |
| 5,001 – 10,000 | $75 |
| 10,001 – 20,000 | $90 |
| 20,001 – 30,000 | $105 |
| 30,001 – 40,000 | $120 |
| 40,001 – 50,000 | $135 |
| each additional 10K constituents | +$15 |
Little Green Light Pricing Tiers – Simple to understand – No add-ons
Now, to round out the pricing conversation, LGL does allow you to create online donation forms. While LGL does not charge a fee for online transactions, there is a payment processor fee starting at 2.2% + $0.30 per transaction paid to the payment processor(no fee to LGL).
This is acceptable and very reasonable in my mind. LGL actually revamped this in 2022 and waived a previous 1% fee. Kudos to you, LGL.
Training & Support
When it comes to training, LGL has you covered in a few ways, without a live class. When you sign-up, you'll have the opportunity to sign up for a 5 part email series that gets you introduced to LGL.
If your organization already has an LGL account and you are a new user, the 7-part New User email series is a better option.
Video Training
There is a 3-part on-demand video LGL Basic Training Course that runs about 3 hours and covers:
Basic Training Part 1: Constituent 101
Basic Training Part 2: Gift Management
Basic Training Part 3: Reporting 101
These are indeed the three keys to success in LGL. They do a good job explaining concepts and how to do them in LGL.
The team at LGL also do these sessions live for customers on a monthly basis. Just register to attend which gives you the opportunity to dig deeper and ask questions.
There are also small group webinars held weekly that are a Q&A which is a great option for both existing and prospective customers.
Finally, there is a video library with 32 videos totaling over 28 hours of helpful instruction covering a variety of topics.
Support
Support options for Little Green Light include:
Knowledgebase
Help page on your account
Email (9am-6pm ET M-F – <1 hour response typically)
Weekly Q&A Webinar
LGL does not offer phone or chat support.
We tested LGL's email support on two fronts. First, we asked a generic question "How does bulk gift entry work?". Second, we asked for specific help with creating a permanent data link in a scheduled report for a specific query.
In the first scenario, the response was received within 36 minutes. It was courteous and referred us to a few knowledgebase articles. This type of response makes sense for a generic inquiry rather than a specific problem.
In the second scenario, we received a response in 44 minutes and began a helpful exchange working to achieve the desired result. I was impressed that some emails even included screenshots to help walk me through the "how-to" part of solving my query. This "teach a person to fish" approach means that I'm less likely to need help again on the same topic since I've learned "how" to perform my query.
Nice job, LGL!
Minor Annoyance
Small gripe: The knowledgebase seemingly covers every feature of LGL with a combination of text, video, and plentiful screenshots. It is built well for the typical user base.
It would be great if you could click on a screenshot to pop it full-screen. Unfortunately, many screenshots are hard to read well unless you right-click and open the image in a new tab. Kind of a pain in the butt, but we are grateful for the user-friendly knowledgebase.
Special Feature: Schools For Classes and Alumni Organizations
One unique feature of Little Green Light is the option to track class-year affiliations for alumni, students, parents, legal guardians, grandparents, and more.
This feature makes it extremely easy to run reports and generate class lists or manage alumni.
By default, this setting is turned off but can be enabled in your LGL account by checking a single checkbox. Sweet!
Class year affiliations can be however you need to organize them. Set the affiliation types (student, parent, grandparent, adjunct professor…) in your LGL settings, and then take actions and reports based on these categorizations.
Security & Data Protection
Little Green Light uses Lightcrest to host their client's applications and data using Kahu clouds. Lightcrest does offer PCI DSS, and HIPPA compliant environments.
According to their website, data is stored using a RAID configure set of drives. There are no specifics as to what level of RAID is used.
LGL confirms that customer data is backed up daily and stored on multiple servers for the sake of redundancy. Again, we are unable to confirm if those servers are geographically distributed or just multiple servers in the same data center.
Backups are retained for 90 days.
Little Green Light complies with the EU-US Privacy Shield Framework as set forth by the US Department of Commerce (the "Privacy Shield").
While data in transport is encrypted with SSL, there is no statement about the encryption of data at rest.
Additional Resources