Successfully Create Your First Nonprofit Board: Practical Guide
Disclaimer: This post may contain affiliate links. These links, if used and purchases made, we may earn a small commission. These affiliate programs do not impact the recommendations we make or the resources we refer you to. Our focus is on providing you the best resources for your nonprofit journey.
The Board of Directors is an important part of nonpofit corporations. But how do you find good first nonprofit board members? What things should you consider when selecting a board member.
We know how difficult this process could be. Even if you think you already know who will be on your board, I want you to read below to make sure you've thought through all the considerations that can help improve the rate of success in creating your first nonprofit board.
What Are The Steps To Create The First Nonprofit Board Of Directors?
It is an exciting time. Your nonprofit is being given life and soon you will be raising funds and delivering products or services to the beneficiaries of the 501(c)(3). But, before you get can start, your corporation needs a Board of Directors.
In general, we like to follow the following steps in creating the inaugural Board of a new nonprofit startup.
Identify the Board size
Identify expertise needs
Identify potential candidates
Create a nonprofit brief
Introductions and evaluation
Invitation to serve
Background checks
Installation of members
Let's look at the details that make up each of these steps and even include a few examples.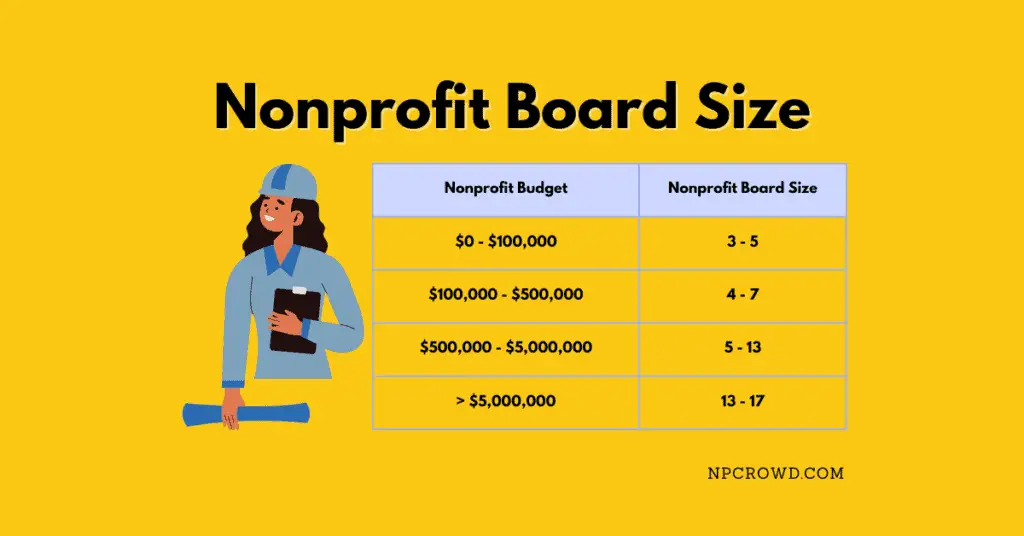 1. Identify The Size Of Your Nonprofit Board
Before you create the first nonprofit board or even identify potential board members, we need to know how big the Board of Directors will be.
Generally speaking, a nonprofit board should be no less than 3 members and no more than 17 members. This ideal size varies based on the size and scope of the nonprofit. Each state will have a minimum board size requirement based on its rules of incorporation.
As a rule of thumb, we've seen the following table used successfully as a guide to Board size, specifically for a governance model board.
| Nonprofit Budget Size | Recommended Nonprofit Board Size |
| --- | --- |
| $0 – $100,000 | 3 – 5 Board Members |
| $100,000 – $500,000 | 4 – 7 Board Members |
| $500,000 – $1,000,000 | 5 – 9 Board Members |
| $1,000,000 – $5,000,000 | 7 – 13 Board Members |
| > $5,000,000 + | 13 – 17 Board Members |
General Nonprofit Board Size Recommendations Based Upon Budget Size
Now, these are just a very simplistic starting point for determining the size of your board. For a small nonprofit startup, I typically like seeing 5 board members for three reasons.
Diversity – There is more room for diverse experiences, backgrounds, areas of expertise, education levels, and personality types. This gives more opportunity for healthy debate and active participation.
Officer Roles – The roles of Chair, Secretary, Treasurer, and others are more spread across unique individuals. This evens out some of the time commitment issues and ensures better accountability and segregation of duties.
Fundraising – While we want 100% participation of our Board in giving to the nonprofit, the means of those gifts will vary. Having 5 board members gives the potential of five different circles of influence and potential fundraising efforts apart from board members personal giving.
2. Evaluate What Areas Of Expertise The Nonprofit Needs
As a rule, it is good for a nonprofit board to be made up of individuals that match the professional and experiential needs of the nonprofit. To do this, create a needs assessment before creating your initial Board of Directors. This will help increase the engagement and positive impact of the Board.
A Board of Directors can serve the nonprofit not only through their time and treasure but also through their talents.
I have seen great synergy take place between a board and the nonprofit, as well as between board members when there is a match, and diversity, in professional expertise and life experiences.
Because of this, I highly recommend you create a prioritized inventory of skills, experience, knowledge, and expertise that is currently needed or will be needed in the first 2 to 3 years of operation.
For example, if your nonprofit will provide office-based medical evaluations or services, you will likely benefit by having a doctor or hospital administrator on your board of directors. At the same time, including a board member that has life experience around the need for the services you provide may be incredibly helpful as they can keep the board reminded of the clients you serve and their needs.
The point is that your board members may be able to provide insights to your nonprofit, at no additional cost, because they are invested and missionally aligned to the work your nonprofit exists to do.
Of course, there are conflict of interest items to keep in mind, but overall, your board members, even in an advisory board capacity, are a great sounding board. Just be able to manage the line between advisory and operational.
So, just create a list of the specific categories of needs that you anticipate having.
Here are some broad areas of expertise to consider and get your brainstorming started:
Legal
Medical / Healthcare
Technology
Financial
Client (Experience with our client base)
Public Relations
Marketing
Pastoral
Counseling
Veterinary Care
Logistics / Warehousing
Real Estate
Philanthropy
Volunteerism
Federal Government
Local Government
Law Enforcement
Nursing
End Of Life Care
Multi-Family Housing
Youth Sports
Youth Camp
College Administration
Education / Teaching
Insurance / Risk Management
3. Identify Potential Board Candidates – Considerations For Success
Now is when we need to identify potential board members. Chances are you may not know exactly the right people for 5 board members, but you likely already know one or two names to consider.
What are some ways to find the right board members? I have 6 recommendations for potential pools to find potential board members:
Professional / Peer Networks – Not only colleagues you know but ask for referrals and put feelers out to see if someone knows someone who is a solid individual and oh, by the way, they have a story that intersects with the mission of your nonprofit.
Schools And Educational Systems – Schools might be great resources depending on the type of nonprofit you are. Principals, Vice-Principals, Music Teachers, Coaches, Professors, and Department Heads are all great points to connect with, and ask if there is someone who comes to mind when you describe your nonprofit and board needs.
Churches And Religious Institutions – Again, it depends on the purpose of your nonprofit, but if it aligns, reaching out to local pastor networks or similar religious networks in your area may yield some good results.
Other Nonprofits – Reach out to other geographically similar Executive Directors or EDs in similar nonprofits in the state or nation. Let them know who you are and about your nonprofit. Ask if they know a great board candidate they would recommend. Sometimes they have a wonderful board member that just left due to term limits.
State Nonprofit Associations – Most states have an official or unofficial state association for nonprofits. Some can be a good resource to reach out to and see how they might be able to assist in your board member search. The Council Of Nonprofits has a list of these.
Friends and Family – This can be a double-edged sword so choose carefully. This is not the route I recommend going since it can turn a relationship sour at times. If you must go this route, I suggest not using immediate family or friends. Think about extended family or even friends of friends that immediately seem like they could be a good fit based on connection to the mission and their ability to make a good board mix.
We've already touched on the talent aspect of how Board members can impact your nonprofit. We'll put that inventory of needs to work in a moment, but you should also consider some other factors when selecting board members.
We're going to look at two other considerations; Diversity and Fundraising.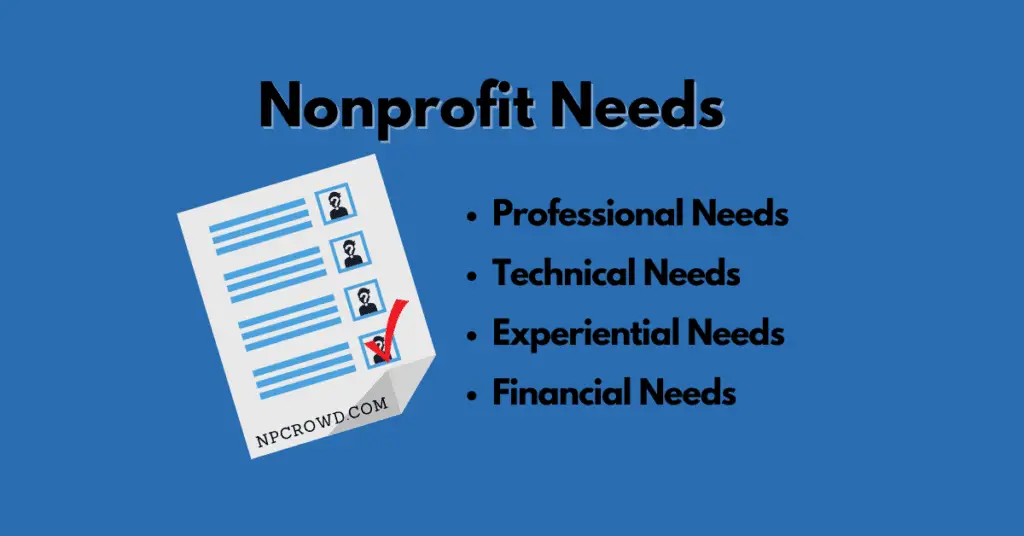 Skills, Experience, Knowledge, And Expertise
First, let's put the nonprofit needs assessment to work.
Take your list of needs and prioritize them from most needed to least needed. There are no ties. Make a decision on most needed.
Now, take the top 5-10 items and create a column for each one. This is the start of our Board Candidate Matrix.
It doesn't have to be anything fancy. A simple matrix like the one below can be used to see how each board candidate fits your needs.
| Candidate Name | Legal | Financial | Medical | Client | Youth Services |
| --- | --- | --- | --- | --- | --- |
| John Smith | | X | | | X |
| Jane Doe | X | | X | | |
| J. Soc | | | | X | X |
Example Nonprofit Board Candidate Matrix
As you identify potential candidates, mark the boxes that match what they bring to the table.
Then, when you create your final list of board members you wish to invite, review and make sure there is a good mix.
Diversity & Inclusion
Generally speaking, the best nonprofit boards are intentionally created with diversity in mind. This diversity should be reviewed from a demographic, socioeconomic, professional, lifestyle, clientele, education, missional alignment, and experience perspective. Having the right mix will help ensure the board is engaged which is required to make strong strategic decisions.
I know that race, ethnicity, and gender identity are common trigger points in the D&I discussion. Unfortunately, today, these specific areas of discussion can be disproportionally used when creating a nonprofit board. The fact is that many factors should be considered as it relates specifically to the type of nonprofit you are.
What is most important is that the voices of those you serve and those who invest in your nonprofit are well represented across your board.
Too many nonprofits create a board that is an echo chamber of the philanthropic donor. I caution you not to do that.
We want our board to be members who are personally invested in seeing the social impact of our nonprofit achieved to a higher level than we could initially conceive.
That means we need board members that come from different places, who have lived different experiences, and who can relate to our clients and our donors without losing sight of the impact goals.
We need excellent business minds that can help us grow the organization and therefore our impact in the world.
We equally need the single parent who knows how our after-school program is an important lifeline for the child, parent, and education system.
We need differences in the way we think in order to ask tough questions or encourage each other in difficult times.
But, we do not need those who are simply serving to build their resume'. Passionate involvement that is both speaking and listening is key. "Seek first to understand, then to be understood".
So, really review the matrix of candidates and ask yourself if the total picture represents those you serve and those who will provide the funding.
Ok, I'm off my soapbox. :)
Fundraising And Giving Capacity
Finally, I want you to consider to financial aspects of potential board members.
If you've already read our Start A Nonprofit In 9 Steps and 91 Days [Guide], you know a part of why we are bringing this up.
There are two components of board members and fundraising; participation and fundraising.
Participation In Giving
You want to have a goal that every board member gives financially to the nonprofit every year. We call this 100% participation in giving.
Sure, it does help the nonprofit have some contribution income. However, that is not the main point.
If you will be seeking grants, most foundations will ask about your board's participation in financial contributions. You want to be able to say without a doubt that you have 100% participation from the Board.
Now, that doesn't mean every board member needs the capacity to give $10,000 annually to be on the Board. No!
What is means is that every Board member has made a donation during the year. It's not about the amount, but that the board is engaged enough to all participate in giving.
I've seen boards where board member gifts ranged from hundreds of thousands of dollars per year and their fellow board member donated a hundred dollars. They are equals and peers on the board. Nobody thinks more or less of anyone.
The point is they all gave.
Remember, 100% participation needs to be an expectation you and your board chair need to communicate.
Fundraising Capacity
Fundraising capacity is the ability of a board member to raise funds on behalf of the organization. Typically this is done through the circle of influence, friends, neighbors, business connections, etc…
The dependence of the nonprofit on the board for fundraising will vary wildly from one nonprofit to another. However, most new startup nonprofits will want and need the board to help do fundraising for the organization.
Let's face it, you're a small organization and likely don't have anyone on staff that will do major gifts, special events, or broad appeal fundraising. It's all up to you and your board.
So, this is where understanding the size and scope of potential board members' circles and connection to the community becomes something for consideration, especially when creating your first Board of Directors.
Assessed their enthusiasm, or lack thereof, to be an advocate or ambassador for the organization.
Think about it. Pray about it, if that's your thing. Discern.
4. Create A Content Brief About Your Nonprofit
The next step we recommend is to create a one-page content brief for prospective board members. You may already have this from your executive summary in your nonprofit business plan. If not, it might be worth reading our QUICK – Nonprofit Business Plan article in this series.
The purpose of this content brief is to give a good, quick overview of your nonprofit along with the expectations you have for Board members.
An overview of your nonprofit will be the easy part. Why the nonprofit exists, who you serve, where you serve, how you will do it, and a quick glance at the financial aspects.
Hold on a second. There are 5 key financial numbers to share with prospective board members that will save you time in communicating. Take a few minutes to read my article 5 Financial numbers to know as a nonprofit leader.
The expectations of board members may be something you are less familiar with because we have not yet touched base on it.
I recommend an info box or bulleted list of expectations that can be further discussed in person.
Some examples of expectations to consider are:
Needed: Your Time, Talent, and Treasure
The Board will meet once per quarter [every other month]
Estimated Time Commitment: 4 hours per month
Board Term: 2 years
100% Board Participation in financial contribution (No Minimum)
Clean Background Check Required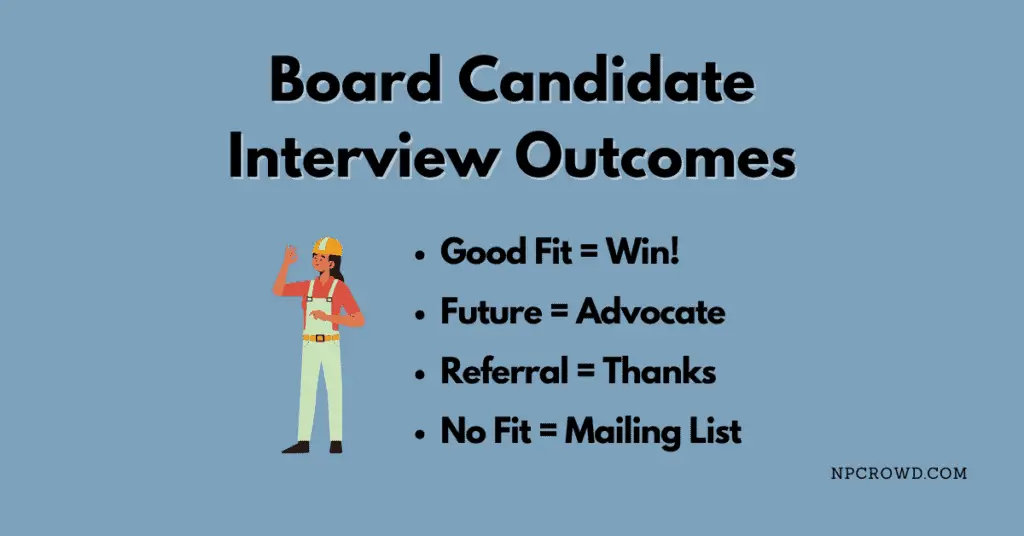 5. Introductions And Board Candidate Alignment Evaluation
Once you have your list of potential board members, narrow the list to those most likely to be a good fit.
Now it is time to interact and learn more about them while sharing about your nonprofit. Being the Executive Director is not an introverted role, so get used to it. :)
Initial Contact
I've seen this happen in a couple of successful ways. If you received a personal recommendation for the candidate, ask the person who made the referral to make an introduction to the potential candidate.
If you don't have the introduction, it's time to make one yourself. This could be a phone call or an email depending on the contact information you have available.
An email might go something like this:
Hi [name of potential candidate]. 

[name of referer] recently brought up your name as we were discussing a new nonprofit Board of Directors. 

Our nonprofit, [name of nonprofit], is about to launch in the "location" area and will [what and who you serve]. 

As part of our process in beginning operations, I am connecting with individuals like yourself that may be the right fit for our Board. 

I would love the opportunity to grab a coffee or lunch in the coming weeks to learn more about your story and how your experiences and giftings might be put to great use impacting our local community through [name of nonprofit] 

What would be a few dates and times that might work best for you? 

[Your contact info]
Tweak this to work for you and your style, but it should give you a sense that an email can be used as a great introduction. Or use this as the basis for a phone call.
It's always a good idea to let the potential board candidate specify the location and time to meet. It will help them feel a bit more comfortable and in control.
Initial Meeting And Evaluation
The day has arrived. It's time to learn more about the potential candidate for the Board of Directors.
I want you to keep four potential outcomes in mind.
Good Fit – The candidate may be a great fit and you invite them onto the board. Woohoo! That's a win!
In The Future – The candidate is interested in the mission of your nonprofit, but not in serving on the board. They could become a donor, advocates, employees, or future board member. Don't lose touch with them.
Referral – The candidate who is not interested in serving on the board is not the best fit, but they know someone who might be. Follow up on the referral if needed.
Not A Fit – The candidate seems interested but you sense they are not a good fit. Couch the conversation that you are talking to several potential candidates but either way, you'd love to keep them in touch with the nonprofit if they would like to receive your email updates in the future. Yup, it's awkward, but NEVER invite a board member you know is not the right fit.
You will discern their fit in the mix by asking good questions that help you fill your needs matrix for candidates. Understand their life experience. Have they served on a board before? When and where? What did they like most/least?
Do they have volunteer or nonprofit connections in their past or present?
Be sure to also get to know their personality. Are they more interested in the social impact of their organization, or how impressive their resume' is?
You make the call.
6. Invitation To Serve On The Board Of Directors
Once you have finished evaluating your board candidates, you will hopefully have your top picks. Now it is time to invite them to the board.
I recommend doing this in person or on the phone. Email just doesn't capture the building or relationship that you are now in charge of the building.
I might say something at the right time in the conversation like:
 "John, I really want to thank you for the time to get to know you and you to get to know myslef and [name of nonprofit]. After a lot of thinking and review, there is no doubt that you would be ideal to serve on our inaugural Board Of Directors. So, I would like to formally invite you to serve on the board and put your time, talent and treasure towards making a huge impact in an advisory capacity for [name of nonprofit]. Of course we need to do the background check and other formalities but what do you think?"
Be sure to express your gratitude for their commitment and then take a break to talk about life and build a strong relational connection. You'll need it for the duration of the term and beyond.
7. Background Checks And Agreements
I recommend that all nonprofits perform annual background checks for all board members and employees. How you use that information to make decisions is up to you. However, you never want to be negligent in not checking and making an informed decision.
There are plenty of services out there that can do this for you. Two that I use frequently are Sterling Volunteers and GoodHire.
Just be sure to know the law when it comes to making any hiring decisions based on the results of background checks.
8. Installation And Orientation Of Initial Board Members
The time has come. Your nonprofit is a legal business entity, you have received your IRS determination letter and you are a tax-exempt organization, you have your EIN, and you are ready to open bank accounts and start fundraising.
But before you can do those things, your Board needs to authorize and vote to proceed. So, we need our first nonprofit board.
You will have invited all your board members to a date, time, and location all have agreed to attend.
Read our article about the 9 things you must do in your first board meeting. From this, you might agree to spend the first hour in a Board Orientation. Some of this time could just be getting to know each other. But then you might go overboard with expectations and then walk the group through what will happen in the board meeting.
Then the meeting can officially begin and spend the second hour or more actually conducting the first board meeting.
During this meeting, first temporary and then official appointments of roles will be decided.
It's a wonderful time and I recommend you use it to reiterate the need for the board to be engaged and that means asking the tough questions while setting and supporting the strategy of the organization.
It is also good to make sure everyone is clear about whether this is an operational board or an advisory/governance board. ie. Start managing expectations about where the line is between the Board deciding vs. providing advice that is then operationally applied by the Executive Director.
Wrap Up
Selecting your first nonprofit board members is an important step in the formation of a nonprofit. The board will set the tone and tenor of how the nonprofit operates. Choosing wisely is key. Don't forget about having a diverse board in order to encourage engagement and strong, healthy discussions.
How To Start A Nonprofit Next Steps